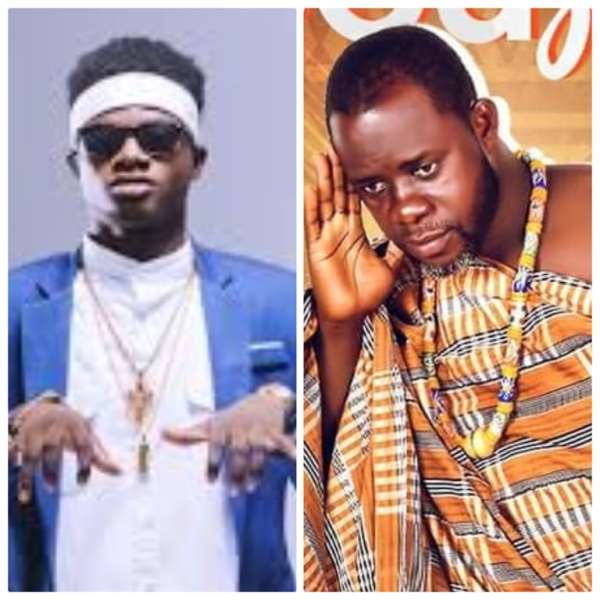 Budding Highlife musician, Ahenfo has stated that the ongoing feud between celebrated Ghanaian Hiplife/Hip Hop artiste, Guru and VGMA's Artiste Of The Year 'winner Kuami Eugene shows that Kuami Eugene doesn't respect his manager Richie Mensah.
The feud started when Kuami Eugene explaining why he refused to Collaborate with Guru in an interview said, the latter disrespected his management team headed by Richie Mensah and as a result, he is not willing to work with someone who doesn't acknowledge his team.
Reacting to this, Guru asked Kuami Eugene to be careful on the grounds he was treading because the music industry is not as easy as it looks. On Friday, 20th February 2021, the NKZ CEO vented his spleen over the Lynx entertainment signee via a diss song.
However, sharing his view on the matter in an interview with Hotfm TV, budding Highlife artiste Ahenfo, accentuated that Kuami Eugene's comments depict that he doesn't respect his boss Richie Mensah.
According to Ahenfo who is currently out with a song titled 'Focusrite', Kuami Eugene should've allowed his management team to come out and speak on his behalf.
Ahenfo stated extensively that ," I'm beginning to believe that the rumour depicting that Kuami Eugene isn't happy and wants to abrogate his contract with Lynx is true. Because the way he spoke shows he doesn't respect his management team".
Ahenfo, known in real life as Karim Alhassan shot to fame when he astonishingly revealed in an interview with Hot FM TV that it is good celebrated Highlife Musician, Kofi B has died.
Watch video of his submission below
Source: hotfmghana.com