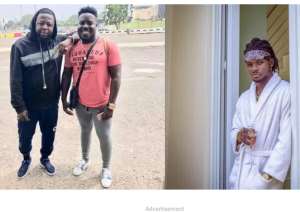 Former Manager of award-winning Ghanaian rapper Guru, Richard Amankwah better known as Ray Moni has taken a swipe at Lynx Entertainment signee Kuami Eugene following the latter's ongoing feud with the former.
Guru and Kuami Eugene are feuding about a feature the later declined the former.
Kuami Eugene in an interview said a collaboration with Guru was impossible because Guru has on several occasions insulted his Lynx Entertainment label boss Richie and since he [Kuami Eugene] is under the management of Richie, Guru's collaboration dream cannot be realised despite being a big fan of the NKZ Music boss.
Responding to the comment in a Facebook post Guru accentuated that the only reason he wanted a collaboration with the Lynx Entertainment signee was because of the admiration he [Guru] has for Kuami Eugene's craft.
The 'Nkwadaa Nkwadaa' hitmaker reminded the 'Walei Sebe Kontomire' hitmaker that he had been in the industry years before him, and cautioned the young singer to tread cautiously because he will not be under Lynx Entertainment till eternity.
Their feud has caused elephantine controversy within the public domain. Expressing his view on the matter in a Facebook post sighted by this portal, the former Manager of Guru, Ray Moni jumped to the defence of his former artiste by indicating that:
"It's just unfortunate that such a disparaging thing is emanating from an artist like you, Kuami Eugene. You can be disrespectful but not to this extent... If you are in your prime today, it doesn't give you the impetus to denigrate a pace setter like Guru.
According to Ray Moni ,"Have you forgotten who introduced you to Dr. Kwaku Oteng? It was through me that you got that ambassadorial deal...The betterment of the industry is what we all crave for that's the reason – like the way Guru admired your craft and wanted to collaborate with you, that's the same way I also helped you to bag that ambassadorial deal.
"In as much as you want to make headlines, you should always show some level of decorous whenever you get the opportunity to vibe about people who have toiled vehemently to give life to the industry which has preempted you to also exhibit your talent," angry Ray Moni advises Kuami Eugene.
Read Ray Moni's post below:
---Hotfmghana.com // contributor on ModernGhana