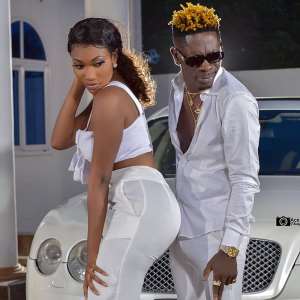 Wendy Shay and Shatta Wale have been trending for a couple of reasons in recent days. Firstly for their new single "Stevie Wonder" and also for the fact that Shatta Wale proposed to Wendy Shay.
The single and promiscuous Wale, in a post on Instagram, called for the RuffTown Records star to consider getting married to him.
Wendy Shay has now responded to the proposal from Shatta Wale in a chat with the entertainment journalist MzGee of Joy News.
"I heard that…I think it is strictly between Shatta and me so I will give him the answer behind cameras. If you know Shatta Wale, you will know that he is a very free-spirited and open-minded person.
"As for that one I really cannot say it on air so I am going tell him we are going to talk," she said.
Whilst she didn't say whether she's ready to marry him, Shay, however, said she sees Shatta Wale as a very 'nice guy'.
Watch her talk about the proposal below…