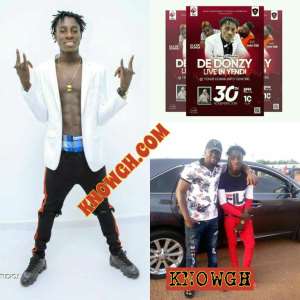 On 30th November, we all saw on social media that Mampurugu based artist Striker D Donzy would be hosting first ever show in Yendi dubbed 'De Donzy Live In Yendi' at the Yendi Cmmunity center.
The show was ill-promoted as the organizers used social media as their means of promoting the event.
Our insiders informed us that the show was a huge flop with attendance of not more than 50 people.
Singer De Donzy's highly promoted tour in Yendi received a low patronage, according to an attendee.
"D donzy show was a flop… Less than 50 people attended… As at 12pm, less than 15 people were in the center… They reduce the ticket price to 5 ghc from 10ghc still it wasn't pulling people". He stated.
The tour which was meant to promote the fastest rising artist in the three Northern Regions had Lil k, Mark D, Don Zigi Don Dee, King z and many others on the bill but all these artist could not help to make it a success.
This beat the imagination of many music lovers in the Northern Region following the personalities behind this event. Dj Parara also known as the Majority leader is said to be the brain behind the artist's success in the northern music industry so far. Parara was also the mc of the said show,yet his influence did not help.
The self appointed Mampurugu ruler dropped hits back to back in the northern music including super star which is trending in the whole northern region. The young singer is regarded by many as the next big thing in the three Northern Regions.