Slapping My Bodyguard Was Part Of A Stunt – Shatta Wale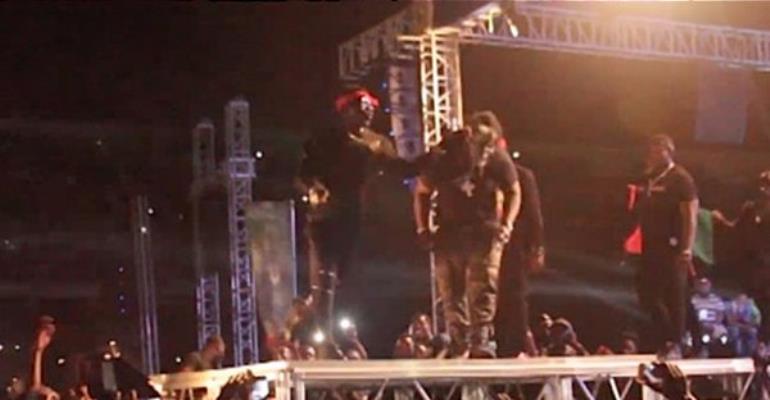 Controversial dancehall act Shatta Wale has revealed that slapping one of his bodyguards at the S Concert was a publicity stunt.
Over the weekend, social media was in a frenzy as a viral video which showed Shatta Wale giving a hefty slap to one of his masked bodyguards as the latter tried to stop a fan from holding the SM boss's legs on stage.
This act, which has seemingly entrenched Shatta's controversial and boisterous nature in the minds of some people, has been widely condemned by many.
The said bodyguard; Biggie Sparta, however, in a video with his boss, is clearly needing no sympathy as he said he will remain loyal regardless of how he is treated.
The 'Ayoo' hitmaker in an interview with Andy Dosty on Daybreak Hitz on Hitz FM, Tuesday said his team needed an act that would make the news and sell him, thus the 'slap stunt'.
"Yes I truly slapped him on stage, but that was an act," he stated.
"We wanted an act for that night, we thought of a choreography, Shatta Wale coming to dance with a whole maybe 15-man squad doing the same dance, for people to get shocked because people have not seen Shatta Wale dancing before," he added.
According to him, they discarded that idea because he thought it would not make the news.
Shatta Wale insisted that the mask the bodyguard wore was foolproof, thus he was under no threat whatsoever.
He commended the fan involved in the 'stunt' as having done well in acting out his part efficiently.
"It was all planned and the fan did well. My fans are spiritually blessed that anytime we decide on something, they say yes to it," he said.