Ghanaian defender Kofi Opare earns rare full time in LA Galaxy II win win over Oklahoma City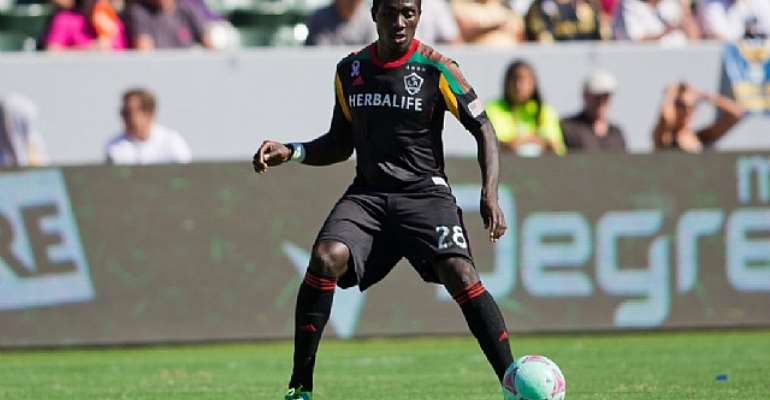 Ghanaian defender Kofi Opare  made his longest appearance of the year with a 90 minute showing in LA Galaxy II's 4-2 victory over Oklahoma City Energy FC.
Opare, who has been hampered with a right adductor issue since the preseason, looked assured in central defense for Los Dos as he made three timely blocks to preserve the victory over Oklahoma City. The appearance was Opare's third for Galaxy II, but his first start.
"I felt a little fatigued because it was the first time that I've played 90 minutes since [the Galaxy's 2013 Western Conference Semifinal exit against Real Salt Lake]," said Opare. "I'm happy to get 90 minutes and get sharpness back."
The result may have looked like a comfortable one on paper, but the closing minutes were anything but as Oklahoma City rode a wave of energy sparked by their 59 th  minute goal and threw numbers forward.
Opare and the rest of the Galaxy II back four were asked to make repeated stops, but none bigger than the center back's block in the 90 th  minute.
With Oklahoma City searching for a late equalizer, midfielder Christian Duke rifled a shot inside the penalty area, but Opare made a sliding save in the nick of time to deny Energy their goal.
"I just happened to be at the right place at the right time," said Opare. "I saw the play develop and once he fired the shot, I knew that I had to slide to keep it from hitting the back of the net."
His 90-minute showing in the books, Opare now has his sights set on a return to the first team. In recent weeks, the Galaxy back four has been ravaged by injuries with A.J. DeLaGarza (contusion), James Riley (meniscus surgery) and Todd Dunivant (abdominal ailment) going down
Although Opare has played almost exclusively in central defense for LA, the second-year defender who played both outside back positions during his youth career believes that he can be a possibility for Saturday's match against Vancouver Whitecaps FC.
"I want to present Bruce with an option in case that he needs another defender," said Opare. "I want to show him that I am available if he needs me, but from a personal standpoint, it's important to just be ready whenever in case I get the call to ask the team."