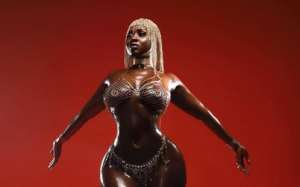 Gambian crossover actress, Princess Shyngle, is back and better after going through some challenging period last year 2018 due to depression.
The actress is not just back on social media but to movie locations doing what has always brought her joy and also melting hearts with her killer curves.
Princess is best known for her curves which is so trimmed that many fear for her asking how she did it that her waist region in particular is so trimmed.
Now she has returned to posting of raunchy photos to show that no one can compete with her when it comes to black beauty and having that shape that some men desires.