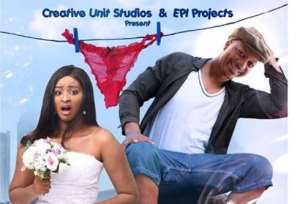 Actor turned movie producer, Etinosa Idemudia teams up with award winning director Charles Uwagbai, announces the release of the 'washerman' with a rather interesting poster
Ever since her entrance into the movie industry, Etinosa has been a moving force to reckon with. She recently wrapped up on set of her own movie production and is set to share it with the world this summer.
The washerman as directed by Award winning director Charles Uwagbai(Brother Jekwu, Esohe, The Ghost and the tout) is a star studded ensemble cast romantic comedy which features Ik Ogbonna, Etinosa Idemudia, Bryan Okwara, Frank Donga, Mofe Duncan, Judith Audu, Chris Okagbue, Soundsultan, Jaywon Juwonlo amongst others. It follows the life of KC, a vlogger desperately in search of love, who after a few frustrating disappointments, says a prayer and when the answer comes, it's not quite what she expected.
Ever since Etinosa took to her Instagram page to officially announce the release date of the movie and share the poster, social media has been aroused with anticipation of the trailer which she also announced would be out on the 1st of July. Here's a first look at the poster.
The Washerman Movie is set to be released on the 31st of August. Here's a first look at the official poster.