Meet Ezenwata Christian, Nigerian next rated Striking Prospect in Europe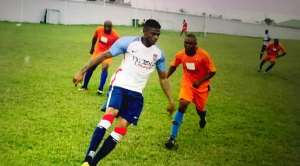 Sensational Nigerian striker, Ezenwata Christian is currently pulling strings in clubs in offshore. His masterful finishing and the ease with which he turns defenders has caught the eye of many scouts; it seems to be only a matter of time before the 'Smiling Assassin' graces the pitches of Europe.
A graduate of Delta State university who left Nigeria to fight for his dream in foreign based clubs. Blessed with fine technical skills and a keen eye for goals, the Nuernberg starlet has emerged as one of Dubai Amateur Football league most talented striker.
Won Top scorer award in the 2016 Emirate League. The attacker has made the breakthrough at Nuernberge having spent two seasons on loan in F.C Lusitano . (South Africa). Has the ability to surge away from defenders and cross off either foot.
The forward has been linked with the elites of the European game since emerging as Nigerian most exciting striking prospect of recent times and is hoping to move to a club in Europe soon. Has a style reminiscent to that of Real Madrid forward and Portugal Internationale,Christiano Ronaldo.