Actress, Mercy Mac Joe Shows her Stinginess in Public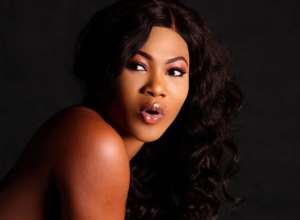 Hmm, the truth is, all in the name of fashion, we are beginning to see the return to the old era of Ama and Eve, as they were always unclad in time of creation.
Today, especially in our pronounced entertainment industry, fans have been exposed through some of these celebs on the funny latest fashion trends which tends to expose the body parts.
Recently, pretty Nollywood actress, Mercy Mac Joe, decided to pose unclad for a photo-shoot but despite having a pleasant day, she decided to be stingy with her body.
The actress chose to cover the very important parts of her body while enabling her fans to only see how fresh her skin is but protected the milk factory.