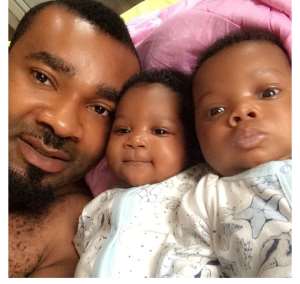 Celebrity couple, Muma Gee and her Nollywood husband, Prince Eke, has revealed the face of their twin babies.
The happy couple posted a picture of their kids, who they welcomed few months ago, wearing matching outfit with them.
Delighted father, Prince Eke revealed that his twin boy and girl were born on the 18th of April and his wife was born on the 18th of November and he was born on the 18th of August.
The proud father also referred the similar dates in his family to that of music duo Psquare, saying they were also born on the 18th of November, the same date with his wife, Muma Gee.
His twin babies named Ceaser and Cleopatra looks cute and Prince Eke said the girl took after his nose and the boy took after his head.