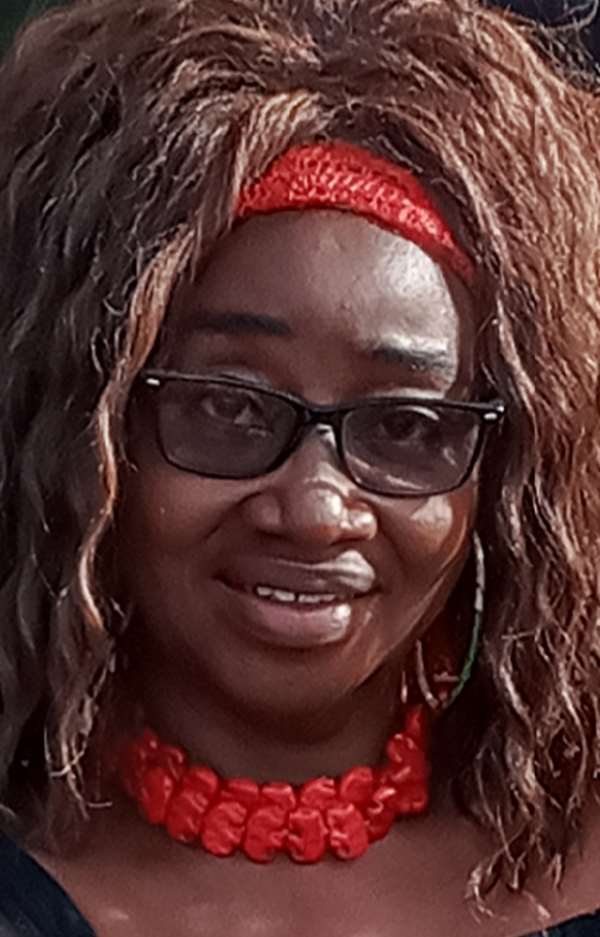 Nana Afua Frema Busia
When coronavirus rules
The world is in detention
Paying rapt attention
Without exception
Of Gods coming eternal reign
The world has no avid retention
There is no apt attraction
Or Expectation
Coronavirus incites preemptive deadly strikes
Christ Jesus resides
With redemptive saving rights
Coronavirus wrecks
mankind into demise
With such despise
Jesus Christ reflects
insights into evils devise
With such respite
Coronavirus causes COVID-19 disease with ease,
Untill the sick is deceased
Christ Jesus, the spiritual ideal,
causes disease to cease
COVID-19 is an Impudent race destroyer
That causes strive, so nothing can thrive
Jesus Christ is the Prudential Grace bestower
Who quiets raging storms
and causes the saved to arrive Alive.
Corona virus; COVID-19, why art thou so lethal and unjust
Lord Jesus, risen saviour, Thou art the righteous King who is just
Oh what a raging bullish fight
So feist
Christ Jesus
Warfare weapon with spiritual might
heal the sick and resurrect the dead at your heavenly height
Coronavirus; secessionist and random death delinquent
Wears a gory crown of gloom.
Jesus Christ; Intercessor
and eternal life deliverer
Wears a thorn crown of glory that loom
The Corona virus reign of terror
Portrays a world in error
Is there a hidden intent?
Or remedial attempt?
For calm meditation
And divine mediation ?
Is there a call to instructive
Godly worship?
From the COVID-19 destructive warship ? Of :
*Rapid death deployment
*Stalled project development
*Unseemly job retrenchment
*Economies in regression
*Progressive retrogression
*IMF funds in diversion
*currencies in depreciation
*The world in recession
*With such digression
and Depression
Due coronavirus aggression
An errant world in divine disaffection
Sorely In need of "The Word" Injection
Facing recalcitrant viral infection
Desperately seeking vaccine direction
New methodologies releasing
On compassion leaning
The poor and hungry feeding
Polluted Cities cleaning
Environs disinfecting
Is corruption weaning?
Or in secret increasing ?
What about soul cleansing ?
For renewed Healing
When Christ is yet redeeming
Governments are Stooped
All are spooked
Into stark obedience
For COVID-19 abeyance
Will Such a sudden annoyance
Lead to heavenly renaissance ?
United Activism
Disunited protectionism
Entrenched borders Frozen
Behold Christ blossom
For he is chosen
The coronavirus rambo rubble
Is a snafu of a Bubble
Why Kotow to a crown that destroy
Look to the crown that restores
In this COVID-19 sorry season
Let us with due reason
Reach For the cross treasure
Let Christ assure with measure
If an unseen coronavirus
can appear all over the world at once
Why can the known creator Christ not reappear with glorious renown all around?
We understand and obey COVID-19 viral invasion
We mistrust and reject Gods unrivalled salvation.
We conform to viral dictates of COVID-19 in universal lockdown
We disobey Gods dictum of 10 commandments that lead to heaven's lock-out
We fear COVID-19 sudden death
We are unfraid that judgement follows certain death
We live in a world controlled by coronavirus; COVID-19 carried by random human emissaries
We discount biblical truths carried by select spirit- filled human visionaries
Does the seeing is believing adage
Assuage?
Do you see the corona virus that has you hammered down in morbid fear of plausible extinction?
Why are you not thinking about Christ who bore your sin on the accursed cross
to restore you to eternal life with distinction
The world with a FEAR instinct
Is in COVID-19 deity worship
Severally bowed to its fast paced deadly stinct
Millions in global chassis
Suffering crunchy cash crisis
otherwise known as cashiosis
Humans gravelly walk miles in desperation
With hunger and perspiration
Needing more than respiration
Survival migration module
Submissive strategic nodule
Avoidance of demolition as a schedule
Death and misery so replete
And hard to deplete
Coronavirus in its defiant evolution
Is akin to a demonic revolution
Coronavirus comes Undercover
With a deadly shower
And a cold shoulder
To take over
Like a raging rover
Do not allow the havoc rake
The headline news is not fake
COVID-19 attacks the deck to shipwreck
Cause distress with disrespect
And excessive stress
No one can rest
It is a test so do your best
Not to transgress
Why this viral denuge?
Seeking human refuse
When there is a refuge
Is there not a matter arising?
With nothing new under God's sunrise?
Where is the devout gavel?
Why call coronavirus novel?
Behold Christ who is Nobel
Put on your daily FAITH robe
And be in a Prayer mode
Take doses of Wisdom notes
Search out the medicinal road
That leads to the curative ode
As the world fails
With COVID-19 on its trail
Do not be tame or frail
For the Lord will prevail
With aid for your ails
As COVID-19 harasses
Christ surpasses
For COVID-19 fear paralysis
Do the Christ analysis :
The sick heal
The deaf hear
Hungry millions feed
The lame leap
The dumb speak
The blind see
Demons flee
Blood issues freeze
All are comforted as he teach
The dead in Christ shall live
With forgiven sin
This is why I Preach
So That all can be reached
Before the final feast
You who in the league are least
Come to the living tree
Seek the Hallelujah King
So that When the ascended Christ descend
In Prophetic Revelation
For divine Revisitation
As is the final designation
Your soul shall live free
In the highest culmination
Of the prepared destination
Copyright April 12, 2020