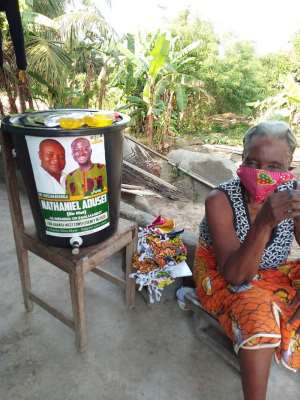 Mr. Nathaniel Adusei, known popularly as Sir Nat donates COVID-19 protective materials to mark his birthday.
The materials worth 650 Ghana Cedis consisted of 350 pieces of protective nose mask, Veronica Bucket, Table Stand, Hand sanitizing detergents and tissues.
The leadership of All People's Congress (APC), together with Sir Nat, settled on the Zongo community because they are mostly left out and hence expose to great danger in these times.
Sir Nat, who is ticked by many to be the next Member of Parliament for the Ahanta West Constituency saw the need to provide the Zongo community in his constituency these materials in these unfortunate moments.
His visitation really heightened hopes in the Zongo community. He passionately told them. "The future rewards those who press on. We don't have time to feel sorry for ourselves. Same way we don't have time to complain. Let keep pressing on." And assured them to do more to if given the mandate to serve come general election. The main taxi rank was also a beneficiary of this kind gesture.
He further made a courtesy call on all well-meaning Ghanaians to donate in their small way in fighting the invisible enemy together.
Aunty Salsa and other Zongo heads assured that the items would be used to enhance sanitization and wished Sir Nat a happy birthday.