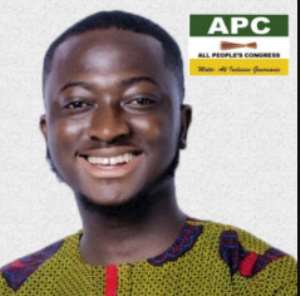 Nathaniel Adusei
Dear aunty Jean Mensah, I'm sure you sometimes feel ashamed to be a Ghanaian due to her tortoise pace of development.
A Ghana 60years and over of independent, did I say independent? Are we independent at all with this puppet style of leadership who always dances to the tune of their paymasters? I'm afraid we are not.
Ghana naturally endowed with rich resources but very poor due to bad governance and management.
A Ghana in which the government of the day takes delight in using the scarce state's money to collapse indigenous banks and firms for it selfish and personal gains thereby making unemployment always on the volume up.
A Ghana in which government reckless borrowing is appreciated and applauded without any iota of shame.
A Ghana in which if you don't bear a certain surname, you won't get some juicy entitlements.
A Ghana in which ministers embezzling state funds and come and shed tears of the ugly reptiles in the Paga crocodile pond.
A Ghana where gory road accidents are rampant owing to bad roads here and everywhere.
A Ghana where the government of the day buys ambulances to decorate state house instead of the emergency services it was meant to serve.
A Ghana in which the only language which seems appealing to the government is demonstration, thereby creating unhealthy tensions and fear in the innocent citizenry.
Ghana which is now a safe haven for criminals and armed robbers due to it porous security.
Hi aunty Jean Mensah, I'm sure you don't want me to continue, so please don't try to be an addition to our problems if you can't be part of the solution.
A new costly voters register is needless to suffering Ghana at the moment. Suffering Ghana needs long-lasting solutions to her problems, not escape plans.
Aunty Jean, I know you will give me a listening ear, but if you try bulldozing your way through, we will respond accordingly.
Much thanks.
~Adusei Nathaniel, a citizen, not a spectator.
The writer of this piece is a columnist of blatant truth and a Parliamentary aspirant of ALL PEOPLE'S CONGRESS for the good people of Ahanta West constituency.