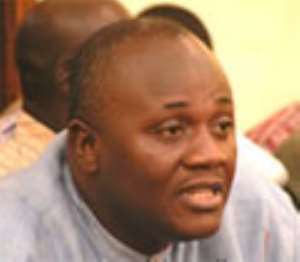 The Greater Accra Women's Organiser of the New Patriotic Party (NPP), Ms Vida Dugbartey, has urged Mr Dan Botwe, the axed Information Minister in the recent cabinet reshuffle, to remain steadfast and committed to the party's vision of winning the 2008 general election.
She also advised him not to deny the NPP his unalloyed loyalty and rich experience, as well as party organisation and management that had seen the party through two electoral victories. Speaking to the Daily Graphic, Ms Dugbartey also commended Mr Botwe and other ministers who were dropped in the reshuffle for their show of maturity and commitment to the party, adding that "our opponents were of the view that you would stir the waters.
But the gentle and mature manner in which you reacted to the reshuffle showed how democratic you were and also how you respected authority". She said most members of the party, especially the young ones, were inspired by the commitment and dedication of Mr Bowte to the fortunes of the party to sacrifice all that they had. Ms Dugbartey said it was such great example by Mr Botwe which increased the NPP's resilience to all opposition when the party was not in government and worked towards the 2000 and 2004 elections.
"The President, as the chief executive of this country, is mandated by the Constitution to hire and fire people for the job without assigning reasons and as a democratic political party we uphold and respect that," she said. Ms Dugbartey advised all NPP members who were disturbed by the reshuffle that government was not like the Civil Service where relieving people of positions must be made public.
She also assured the party that the Greater Accra Women's Wing of the party would continue with its membership drive, as well as educate women on the need to vote for the NPP, which is a women-sensitive party.