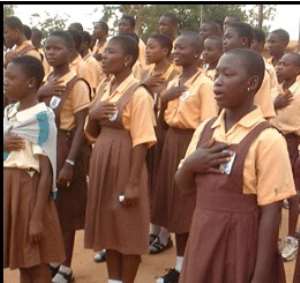 Kumasi, May 05, GNA - Professor Agyeman Badu Akosa, Director-General of Ghana Health Service (GHS), has observed that three million children under five years of age die globally each year due to poor environmental conditions.
He noted that such deaths were preventable and therefore; stressed the need to raise awareness not only in the health sector but also in energy, transport, land-use, industry and agricultural sectors that had contributed to child health, to minimize such deaths. Prof. Akosa made the observation in a speech read on his behalf by Dr George Kwadwo Amofah, Director of Public Health, at the National Launching of Child Health Promotion Week at Appiadu in the Kumasi Metropolis on Thursday.
The function organized by the GHS and attended by school children, health personnel, traditional rulers and nursing mothers was under the theme, "Healthy Environment, Healthy Children".
Prof. Akosa said diseases such as diarrhoea; cholera, malnutrition and malaria continued to kill many children under five years and urged the people to tackle environment-related diseases to help reduce the mortality and morbidity rates in children.
He regretted that failure of many nursing mothers to immunize their children against the six childhood killer diseases also accounted for deaths of children and advised them to immunize their children against such diseases.
The Director-General urged the people to adopt preventive measures to reduce deaths in children.
Dr Isabella Sagoe-Moses, National Child Health Co-ordinator, said the weeklong celebration aimed at increasing the package of services include immunization, growth promotion, distribution and 'Vitamin A' supplementation.
She therefore, called on caregivers and nursing mothers to ensure that their children matured within healthy environment. Dr Kofi Asare, Ashanti Regional Director of Health Services, said the recent outbreak of cholera in Accra and other areas was attributed to poor insanitary conditions and appealed to the people to observe proper hygiene and environmental cleanliness to avoid the outbreak of cholera and other diseases.
Odeefuo Owusu Amoaye, Chief of Appiadu said many strike actions by health personnel had resulted in many deaths and urged them to use dialogue to resolve their problems. He expressed concern about the increasing brain drain of health personnel in the country and asked them to consider the welfare and development of the country to render quality health care to the people. 05 May 06