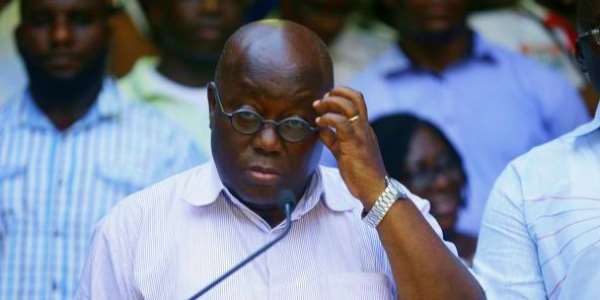 Akufo Addo, one of Ghana's most corrupt leaders in disguise
If any Ghanaian thinks Akufo Addo is not corrupt then the person has the brain of a child. In corruption, Akufo Addo thinks he can play smart to deceive Ghanaians but the fact is he is not clever. I will prove to you that Akufo Addo is a smooth-cunning corrupt politician Ghana has ever known.
In fact, there is no difference between him and John Mahama, they are birds of the same feathers. I am standing on my feet upright looking into the eyes of Akufo Addo, asking you today to tell Ghanaians, the reason he appointed Martin Amidu, the Special Prosecutor to investigate corruption in the country.
I am standing upright on my feet, asking Akufo Addo to tell Ghanaians, the reason he printed the 100 and 200 Ghana Cedis notes. Again, Akufo Addo, can you please, tell Ghanaians why despite many Ghanaians aren't happy about the new notes, yet the Bank of Ghana quickly released the money into circulation?
You see, Akufo Addo, everything tastes delicious in their mouths
those who don't know how to cook, the same thing applies to Ghanaians at home who have never experienced quality leadership. They cherish and admire your poor and inefficient leadership because John Mahama, the former Ghanaian leader had disappointed them.
I know what is quality and efficient leadership in Belgium, the reason I called you a failure. In Belgium, even cleaners earn between 1,300 - 1,500 Euros per month. Many have their own houses paying monthly, while some have already finished the payment between 20 to 25 years.
Again, cleaners drive good cars together with high earned salary officials because the intelligent Belgian government has created an economy in which everyone, including the low-earned workers, could fit in. You don't need to be rich before you live a normal life and you don't need to get money before going to the hospital.
And please, Mr. President, don't tell Ghanaians that since Ghana is an African country, circumstances in the country are normal because Belgium hasn't even one-tenth of the resources Ghana has. With 15 politicians, including the prime minister, Belgium's economy is one of the best in the world.
In the year 2011, all the branches of the Dexia Bank, one of the popular banks in Belgium went bankrupt. The government didn't watch them collapse.
As part of the operation to unwind the Dexia Group, Dexia Bank was bought by the Belgian Government for 4 billion EUR through its investment company SFPI. Today, Belfius Bank ranks as one of the best customer service and insurance banks in Belgium.
Akufo Addo, how many banks collapsed under your administration and how many of them did you save? You see, in life love conquers all hate and the truth is always bitter than the bile, the reason I am not afraid to speak the truth.
Your government has set a world record with over 120 ministers, that continue draining the economy of Ghana. Things are extremely tough in Ghana because your ministers lack intelligence and efficiency. They don't even know their left, let alone their right.
Your government hasn't found an answer and explanation for over 500 missing excavators seized from illegal mining sites in the country, yet as quickly as possible, you have appointed Martin Amidu to investigate Airbus corruption scandal implicating the former Ghanaian leader, John Mahama.
Does that make you a good leader? This is one of the reasons, Akufo Addo, I say, you can only convince those you have put under perpetual fear or scared of you, that you are not corrupt but not me. I can smell the odour of your corruption right here in Belgium.
In January 2018, Akufo Addo appointed Mr. Martin Amidu, the former Attorney General, as Special Prosecutor to handle and investigate corruption cases that have overflowed its banks in Ghana.
Ever since Mr. Amidu was appointed, the president himself and several NPP officials have been involved in corruption scandals, yet, this man always pretends everything is normal. He has never prosecuted anyone of which Akufo Addo is enjoying it.
Amidu's inefficiency in dealing with corrupt politicians in the country has given thousands of Ghanaians the evidence they need to understand that Akufo Addo only deceived and made the public to believe that he was to fight corruption.
Ghana is losing billons through corruption and this has direct consequences for economic growth and the price has its repercussions on consumers and ordinary people, yet you claim to fight against corruption.
Where is the fight against corruption in the country if Ghana ranks the third corrupt country in the world, according to a US News report? Reference: https://bit.ly/38cZ4QO. I will leave this question for sincere and honest Ghanaians to answer themselves.
There is no 'Oyadieyee,' on the streets of Belgium, desperate traders don't carry tubers of yam on heads to run after vehicles looking for buyers in Belgium and there are no shoe shiners roaming on the streets of Belgium.
Because of the efficient government's VDAB, the public employment service and one of the largest job sites of Belgium provides modular education and supporting training on the job for such kinds of people suffering like those in Ghana.
In fact, those who love reading my articles have already seen that someone full of hate and having sleepless nights, always leaves a filthy comment of insult whenever I post an article.
I will continue to delete them even though if you are not somebody, nobody will hate you. Yes; people hate someone for nothing. It's only a fool that will repeat posting deleted comments daily.
Both NDC and NPP are twin brothers baptized with the holy ghost of corruption, therefore, intelligent Ghanaians must concentrate on the newly formed minor political parties in the country.
One day, you'll remember that "I told you so" because Akufo Addo is equally corrupt like John Mahama, the man that Ghanaians hate so much. Time will tell, just be patient.