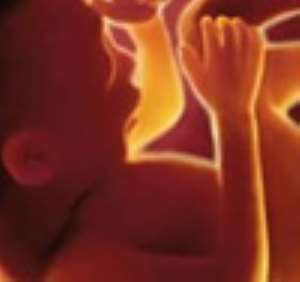 Cockroaches, Bottle, Gunpowder In Vagina ...
Records at the Department of Obstetrics and Gynaecology of the Korle-Bu Teaching Hospital indicate that most of the unsafe abortion cases among adolescents were caused by the intake of high doses of over the counter drugs and concoctions.
These are high doses of paracetamol; chloroquine; ergot; coffee; grounded bottle; 'blue' used for washing; hair dye; grounded ants; cockroaches; bleach; douching with poisonous and caustic substances; insertions into the vagina or enemas with potent herbal preparations from trees and gunpowder.
Some even use trans-cervical insertions of sticks (cassava) and some will have their boyfriends jump unto the abdomen to force the foetus out. Speaking in an interview with the Ghana News Agency, Mrs Hectorina Yebuah, Deputy Director of Nursing Services, Korle-Bu, said abortion cases were on the increase with most of the cases being incomplete, inevitable and septic, adding, "incomplete abortion cases tops them all".
She said that many women had died out of unsafe abortion while others had had severe long-term complications, which included injury to the genital tract and internal organs, chronic pelvic pain, infertility and psychological trauma. According to her, 10 women died of unsafe abortion in 2005; seven in 2004; 12 in 2003; nine in 2002; 16 in 2001 and 10 in 2000 at the Hospital.
In Africa, more than 30,000 women die each year of unsafe abortion, four million Africa women continue to undergo unsafe abortion and millions are getting injured including infertility. Abortion causes about 30 per cent to 40 per cent of maternal mortality and morbidity in Africa.
These women resort to abortion either due to contraceptive failure among the married women; sexual coercion; rape; sexual abuse; out of reach of family planning, social and economic reasons. Mrs Mercy Offei, Deputy Director of Nursing Services in Charge of Gynaecology Unit, told the GNA that as at March 2006 more than 300 abortion cases had been reported with the ages of patients ranging between 16 years and 35 years.
She explained that with the low patronage of family planning, many women especially the married women found themselves pregnant when they were not prepared "and such women some of whom due to religion, will resort to other illegal methods and end up here at the Hospital. Mrs Offei explained that most of the abortion cases among the adolescents increased after cultural festivities where merrymaking, indiscriminate and unsafe sex among the youth were at its peak, saying that reported cases started in August.
She said those children, mostly school children, out of school children, house helps and kayayee, upon realising that they were pregnant, sought advice from their peers, who also introduced them to all sorts of concoctions to abort the pregnancy. "These girls do not tell their parents when they are pregnant for fear of being beaten or thrown out of the house so the only option is to practice what their peers have told them ", she said. Mrs Offei called for continuous education on the dangers associated with unsafe abortion and the use of contraceptives as a measure to curtail the menace.
"If we are able to accept the use of contraceptives to prevent unwanted pregnancies, then I believe, it will reduce cases of unsafe abortion and there will be no need to legalise abortion."