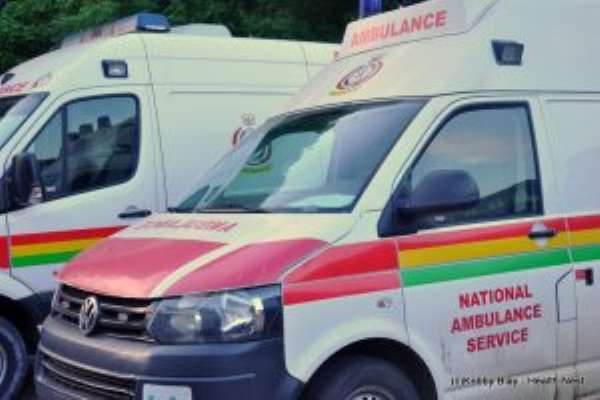 Finally, a true progressive and visionary leader of the kind that Ghana has been lacking for so long has emerged onto the scene and responsively and responsibly stepped up to the plate and delivered state-of-the-art ambulances to all 275 Constituencies of the nation. But, of course, as usual, the deliberately and adamantly blind and irredeemably immoral supporters and sympathizers of King Corruption, to wit, Candidate John Dramani Mahama, would have the rest of us believe that the man who wickedly and callously turned off the lights at all the Maternity Wards at our major hospitals and clinics, culminating in the needless and avoidable deaths of hundreds of pregnant and laboring mothers, is the one prime candidate that Ghanaians ought to express gratitude to for, supposedly, having worked around the clock to sharply upgrade the standard and quality of our national healthcare system (See "Punishment Awaits You for the Late Distribution of Ambulances" Modernghana.com 1/28/20).
What sort of logic and madness is this? The Dear Reader would be tempted to ask. You see, liars and cynical propagandistic supporters of Little Dramani like Mr. Isaac Batowiise Bening ought to be promptly and summarily stripped of their Ghanaian identity and citizenship. The latter's act of savage mendacity has absolutely no place among the company and the globally venerated community of civilized Ghanaian humanity. He may also have conveniently forgotten this, so we need to remind the wickedly fanatical likes of Mr. Batowiise Bening that the last time that Candidate Mahama, the former Supreme Court-appointed President of Ghana, imported ambulances into the country, it was a couple of months to the 2016 general election. But what is even more significant to point out, is the fact that not a single one of the German-imported ambulances was equipped with a functioning or running engine! Each and every one of these scandalous excuses for ambulances was veritably an empty shell. This is the same Federal Republic of Germany from where President Addo Dankwa Akufo-Addo and Health Minister Kwaku Agyemang-Manu imported the approximately 300 ambulances which the public treasury-scamming operatives of the main opposition National Democratic Congress (NDC) would have Ghanaians believe the New Patriotic Party's leaders are deliberately playing cheap point-scoring politics with.
Indeed, were he vindictive like Little Dramani, President Akufo-Addo would have first ensured that the man who so treacherously and thievishly supervised the double-salary scamming ministerial cabinet – now, let's talk about real cabinet sizes between Nana Akufo-Addo and Mr. John Dramani Mahama – was financially investigated and forced to return his Woyome-sized stolen money from our National Treasury where it rightly and properly belongs. You see, it is such morally nauseating leniency that saw Ghana recently penalized on the corruption-ranking grid/index by Transparency International. And then President Akufo-Addo would have rigorously prosecuted each and every one of the Mahama Ministerial Kleptocrats of the so-called National Democratic Congress. Then also, Little Dramani ought to have been forced to ship back to Germany the veritable junk of ambulances that he had daftly and insolently imported into the country. To be certain, even chattel slaves of the 18th and 19th centuries would not have made the sort of abominable and morally reprehensible decision that the Rawlings-trained political pothead made.
Even the very person who tutored Little Dramani in the ignoble art of official theft and robbery, namely, Chairman Jerry John Rawlings, is convinced that his former protégé is the most genius of his former students and graduates of the Trokosi Nationalist Academy of Advanced Corruption Studies and Practice. You see, Nana Akufo-Addo is generously endowed with an uncanny touch of class that Little Dramani is incapable of even imagining, let alone dream about. And even if he could dream about Nana Akufo-Addo's much-remarked uncanny touch of class, so dumbstruck would Little Dramani become that he would not be able to rhetorically articulate the same, much less put whatever he might have dreamed about into practice for the good or development of our beloved nation.
Indeed, one is tempted to wonder what was so "rocket sciency" about the very savvy decision by Mr. Kwaku Agyemang-Manu, the Akufo-Addo-appointed Health Minister, not to have the President prematurely commission the ambulances until the proper and requisite professional training and orientation had been offered our Emergency Medical Technicians (EMTs), and the carefully selected operators or drivers of these ambulances? Or is this also part of the characteristically and deftly orchestrated stupidity of the fanatical supporters and sympathizers of Candidate John Dramani Mahama? We need to also highlight the fact that the callous imposition of Dumsor by the grossly incompetent Mahama-led National Democratic Congress' regime cost the life of the pregnant wife of one of then President Mahama's own Deputy Ministers. And this criminally reprobate character is the man that Mr. Batowiise Bening and his ilk would have the Ghanaian electorate return to Jubilee House come January 7, 2021! What kind of moral criminality is this? Or is this plain stupidity? Or a combination of both?
I bet my metaphorical bottom-dollar that come Election 2020, Ghanaians have absolutely no other viable alternative but to massively and resoundingly return Nana Akufo-Addo to Jubilee House by at least an electoral margin twice the size of the margin with which the former Attorney-General and Minister of Justice seismically trounced the then incumbent President John Dramani Mahama.
*Visit my blog at: kwameokoampaahoofe.wordpress.com Ghanaffairs
By Kwame Okoampa-Ahoofe, Jr., PhD
English Department, SUNY-Nassau
Garden City, New York
January 28, 2020
E-mail: [email protected]