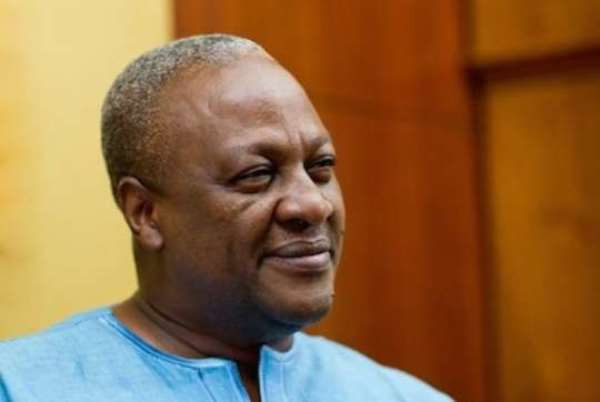 At the 88th Annual National Convention of the Ahmadiyya Muslim Mission of Ghana, the Ameer and Missionary-in-Charge, Maulvi Noor Mohammed Bin Salih, was reported to have commended former President John Dramani Mahama for his "humility and demeanor," and that these two behavioral traits were characteristics that if the bosom friend of Mr. Alfred Agbesi Woyome held onto tightly, he was likely to achieve success in his future endeavors (See "Criticize Corruption, Nepotism with Boldness – Mahama to Religious Leaders" News Desk – Modernghana.com 1/6/20). Now, we must hasten to point out that Maulvi Bin Salih did not specifically associate the former President with Mega-Scam-Artist Alfred Agbesi Woyome; nonetheless, it is safe to observe that unless the Emperor of Ghana's Ahmadiyya Community was out of the country for most of the past 10 years, he must be fully aware of the key conspiratorial and collaborative role played by then-Vice-President John Dramani Mahama in the criminal extortion of our National Treasury to the humongous tune of GHȻ 51.2 Million, if memory serves yours truly accurately, by doing absolutely nothing to stop then-Attorney-General and Minister of Justice Martin ABK Amidu from being summarily expelled from the ministerial cabinet of then-President John Evans Atta-Mills, late.
Mr. Mahama's 2012 presidential electioneering campaign promise to promptly retrieve the Woyome loot did not amount to the proverbial hill-of-beans. To be certain, Mr. Woyome promised to expose all those loot-sharing leaders of the National Democratic Congress (NDC), including the extant presidential incumbent, who were self-righteously pretending as if they were morally superior to their generous benefactor and the Commander-in-Chief of the National Democratic Congress' Looting Brigade. We need to also underscore the scandalous fact that in the wake of the "mysterious" passing of President Atta-Mills, both the Interim-President Mahama and the substantive President John Dramani Mahama, the Commander-in-Chief of the Ghana Armed Forces, did absolutely nothing to restore Mr. Amidu, whose sole crime was to have adamantly refused to back down in his morally progressive and politically patriotic quest to have Mr. Woyome's stolen money returned to the source of the mega-theft, namely, our National Treasury, to his prior dignified status as a fearlessly honest Chief Government Attorney.
To be certain, there is credible evidence indicating that, indeed, Mr. Mahama and some NDC operatives and elements known to be closely associated with the extant president were widely alleged to have threatened the life of Mr. Amidu, who wrote and published several newspaper and media columns boldly vowing to continue calling out the Mills-Mahama-led National Democratic Congress' regime on their orgiastic indulgence in rankly corrupt activities without any regard to any threat that might have been made was about to be made against his life. As well, Ghana's longest-serving Deputy Attorney-General had clearly indicated that since his shameful expulsion from the Mills-Mahama cabinet and the systematic attempt to humiliate him and rob him of his hard-won moral integrity and professional credibility, his life had literally been rendered increasingly ungovernable by some elements of the then-ruling National Democratic Congress.
Now, if, indeed, Ameer Mohammed Bin Salih is really interested to know, this is not the hallmark of either a humble politician or an honest leader. It is also not one of the salient qualities of a tolerant leader. You see, about the only thing that Mr. Mahama seems to be clearly tolerant of is thievish corruption of the most scandalous magnitude and pathologically violence-prone or oriented former Presidential Staffers like Mr. Stanislav X. Dogbe who, according to Second Parliamentary Deputy Speaker Alban SK Bagbin, was the de facto President and Mahama surrogate who routinely and literally took the law into his own hands by mercilessly beating up Ghanaian journalists whose bold and forthright approach towards the practice of their watchdog societal role and art, both Mr. Mahama and his assigns and appointees deeply resented, as happened in the horrific case of the young reporter in the employ of the state-owned Ghana Broadcasting Corporation (GBC) who was savagely mauled at the 37th Military Hospital in the wake of the clearly preventable roadkill of Mr. Samuel Nuamah, the young Ghanaian Times correspondent attached to the Mahama Presidency at the time.
It is also no mark of humility when as President, Mr. Mahama was widely reported to have told the very citizens who put him in the Jubilee-Flagstaff House that they had absolutely no right to criticize his shoddy job performance because unlike this golden-spoon fed wealthy politician's son, these genuinely humble and honest and conscientious voters/electors had never been entrusted with the democratic reins of governance; and that until each and every one of these poor and ordinary citizens got elected to the highest office of the land, they would be better off just zipping up their big mouths and allowing him to ride roughshod over their dreams and aspirations.
Now, for the information of Maulvi Noor Mohammed Bin Salih, any leader who speaks like the now-Candidate Mahama is a veritable tyrant, not a progressive democrat. I also really don't know that it is morally sound for a well-respected and influential religious leader like the Ahmadiyya leader to go outrageously soft on Candidate Mahama and even allow the latter to use his pulpit to criminally lecture Ameer Bin Salih on the need to caustically attack a government that is far less corrupt and light years more transparent than the Judgment-Debt scam-artists and double-salary thieves who constituted the Mahama cabinet and regime; damn the Akufo-Addo-led government of the New Patriotic Party (NPP) that is uncontestably the most progressive and visionary of any postcolonial democratically elected Ghanaian government?
By Kwame Okoampa-Ahoofe, Jr., PhD
English Department, SUNY-Nassau
Garden City, New York
January 5, 2020
E-mail: [email protected]
*Visit my blog at: kwameokoampaahoofe.wordpress.com Ghanaffairs