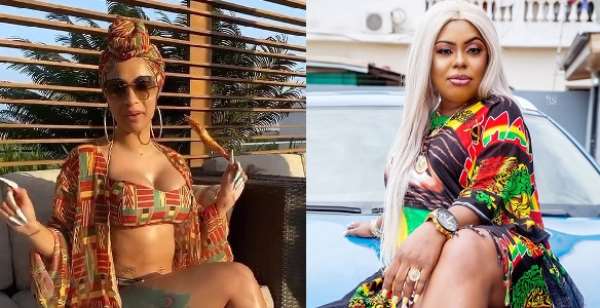 When the Hip-Hop diva Cardi B touched down at the Kotoka International Airport (KIA) on Saturday, December 8, it was reportedly approximately 1:30 pm (See "Moesha, Hajia4Real, Afia Schwarzenegger, Others Embarrassed at Cardi B Presser" Ghanaweb.com 12/8/19). The previous day or two, the global megastar had reportedly performed in Nigeria, which was quite interesting to me because I had expected her itinerary to have been scheduled the other way around, with the Bronx, New York native first touching the tarmac in Ghana and then Nigeria next. This thought flashed through my mind because Ghanaians have a commercial spiel that goes as follows: "Ghana is the Gateway to West Africa." As usual, the jealous Nigerians have been known to always respond to the latter by riposting that, indeed, "Ghana may be the Gateway to West Africa, but Nigeria is the Destination."
At any rate, what inspired this column was the report that some, largely pedestrian, female Ghanaian celebrities who had been invited by the Ghanaian hosts of Cardi B to hobnob with the latter had been left stranded with a no-show Cardi B for up to some 12 hours at a hotel in Accra, Ghana's capital, called Kempinski Hotel. It would shortly turn out that the Hip-Hop cynosure was in another part of the Kempinski by a swimming pool chilling and chomping on some delicious shish-kebabs, and may not even have known or been aware of the fact that some locally resident "Big Sisters" had been waiting to give her a rousing welcome at a presser – I suppose the latter word means a press conference – that she was reportedly scheduled to address.
Naturally, Cardi B's Ghanaian sisters would be left miffed upon discovering that the multimillion-dollar-girl was relaxed and calmly ripping the meat off her kebab stick by the Kempinski Hotel swimming pool, almost as if she was completely unaware that there were some local counterparts of hers – actually, very poor imitations of her – who had converged at the Kempinski and been waiting for what seemed like an eternity to give her the globally renowned Ghanaian "Atuus" or bearhugs, that is, a rousing welcome that she may not be likely to forget anytime soon. For my part, though, reading the Cardi B "standup" on social media was all the more amusing, if also because short of gender congruity or sameness, I saw absolutely nothing remarkable about the caliber of the so-called local celebrities who were lined up to press flesh with the Cardi, as it were. I mean, I am really not an avid fan of the Hip-Hop diva, largely because of her rowdy and abrupt ghetto mannerism. The young mother of several kids clearly has quite a bit of good-manner lessons to bone up on.
Recently, for example, the multimillion-album-selling megastar was in the news for having gotten herself in what appeared to be a fisticuff with some local New York City rivals and was due to appear in court for the same. Even so, I did not fathom Cardi B rubbing shoulders with jaded or washed-out "slay queens" or sexual icons and practical bimbos and demimondes like Moesha and Afia Schwarzenegger. Not by any stretch of the imagination. And I suppose this to have been the most glaring reason why the handlers and hosts of Cardi B decided, on second thoughts, that perhaps it was not such a kosher idea, after all, to have the "kayaye" equivalent of genuine celebrities hobnob with the global Hip-Hop megastar. Literally forced to tuck her tail in-between her yawning crotch, the diarrheal foulmouthed Ms. Schwarzenegger could be seen and heard rattling off some unprintable words from her car at an unseen and clearly absent Cardi B which, I am quite certain, the half-Hispanic and African-American global celebrity couldn't have cared less about, including Ms. Schwarzenegger's rather tacky claim that "I am no ordinary celebrity. I make $ 2,000 [Two-Thousand Dollars] in 40 minutes."
Maybe snooty-assed Ms. Schwarzenegger may want to Google up and find out approximately how much Cardi B makes in just 60 seconds. I bet the former is apt to be humbled by what she learns. Anyway, as of this writing, Ghana's entertainment media was reporting that Cardi B had apologized to the effect that she had not meant to "dis my Ghanaian sisters." She simply had not been apprised of any scheduled meet-and-greet "presser" by her handlers.
*Visit my blog at: kwameokoampaahoofe.wordpress.com Ghanaffairs
By Kwame Okoampa-Ahoofe, Jr., PhD
English Department, SUNY-Nassau
Garden City, New York
December 8, 2019
E-mail: [email protected]