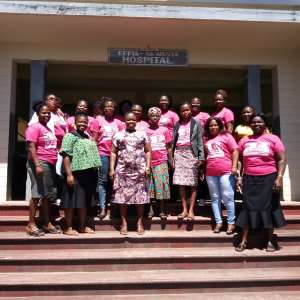 The Women's Committee Branch of the Health Services Workers Union of TUC Ghana as part of activities to mark the Breast Cancer Awareness has foot the medical bills breast cancer patient who could not pay for medical bills at the Effia Nkwanta Regional Hospital.
October every year is Breast Cancer Awareness Month, which is marked in countries across the world, and helps to increase attention and support for awareness, early diagnosis, and treatment as well as palliative care for women facing this disease.
HSWU also celebrates Breast Cancer Awareness Month to mobilise its members across the country to sensitize members on the need to seek early diagnosis and all other related issues.
Health Services Workers Union of TUC is a Health Sector Union dully registered under the laws of Ghana to represent all paramedic in both Public and Private Sector Workers.
The Regional Chairperson of the Women's Committee Madam Doris Awo Mensah in a presentation on behalf of the Union noted that helping people is important because it's good to do good deeds for others which is the essence of the Union's existence.
"We in the HSWU believe that it's good to help because it makes you feel good about yourself. Because it will make you seem like a better person and have others have a better outlook on you. Because if you help someone in need, they feel the need to help another."
Later at durbar to climax the Breast Cancer Awareness Month at Effia Nkwanta Regional Hospital, Dr. Charlotte Sam noted that early diagnosis remains the cornerstone of breast cancer control.
According to her, when found early, and if adequate diagnosis and treatment are available, there is a good chance that breast cancer can be cured.
If detected late, however, curative treatment is often no longer an option, in such cases, Dr. Sam observed treatment may improve quality of life and delay disease progression, while supportive and palliative care should be readily available to relieve suffering for patients and their families.
Dr. Sam noted that majority of women who die from breast cancer (324 000) live in low- and middle-income countries, where most women are diagnosed in late stages due to a variety of factors.
This she said, include limited awareness on the part of the public and health care providers, and the lack of access to timely, affordable and effective diagnosis and treatment.
She therefore commended the Union for committing resources in this very important regard.