Tema Supreme Lions Club Holds Free Health Screening For Residents Of Shia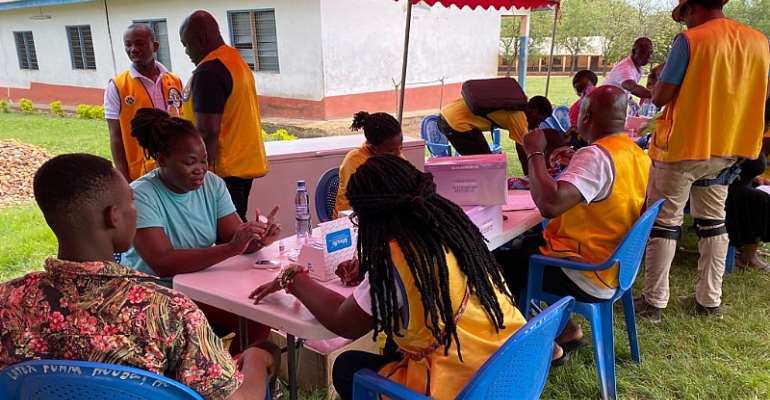 The Tema Supreme Lions Club of Lions Club International has organized free health screening for residents of Shia, a suburb of Ho in the Volta Region of Ghana, last weekend.
The exercise was held in collaboration with Ho Sentinel Lions Club and Tema Supreme Leo Club, the youth wing of the main club.
Doctors and other medical officers from Accra and Ho with support from Shia educated residents on health-related issues and screened them on sight, hepatitis B, malaria, body mass index, blood sugar level among others. There were free consultancy, and laboratory services too.
Lion Christopher Apawu, the president of Tema Supreme Lions Club revealed to Modern Ghana Online that the exercise formed part of their mandated monthly humanitarian service programmes lined up for the year "Globally, Lions Club International focuses chiefly on diverse humanitarian activities every month. We, in Ghana, replicate this and report to our headquarters", he said.
"For the month of October, the key focus is on sight; participants who needed medication were given for free while those who needed further screening were referred to seek medical attention at other health facilities" he added.
Prior to the screening, 300 people were estimated to take part in the exercise but recorded over 400. This activity was successful because Leinad Services Limited, NHIS (Ho) and Shia Health Centre sponsored.
On the registration of people onto the NHIS, he was of the view that most people don't have the means (money) to register and that, taking it upon themselves to register those who need yet can not afford the registration amount is appropriate and prudent.
He advised residents to go for regular screening to ensure that they stayed in good health at all times instead of waiting to have symptoms before seeking medical care.
Mr. Martin Alakpa, one of the elders of Shia, expressed his sincere gratitude to the Tema Supreme Lions Club and all volunteers who contributed to the success of the event.