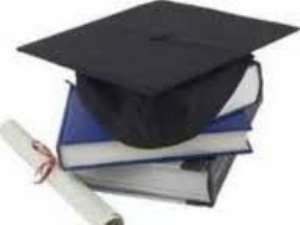 In the words of Liberia's 23rd President Ellen Johnson Sirleaf " Liberia educational system is a mess" which of course send mixed-feeling amongst Liberians the World over when the then President give her candid opinion at a function in Monrovia during her reign as President.
Few years later, the realization has grab the Nation with with the Ministry of Education and permanent personalities coming out with suggestions for those institutions whose instructors it is alleged that are the ones giving rise to the roots causes of the educational mess that has engulfed the Nation Liberia.
River Cess County Senator Dallas Gweh has been very vocal in calling for an educational crimes court to prosecute would be culprits that it is alleged that they are deeply involved with what described as sex for grades or monies in exchange for grades in almost all of the educational institutions in Liberia.
Information available to this writer indicates that the Ministry alluding to the fact that these allegations within the schools system warrant curtailing as such made a recommendation to the Chief Executive of the Republic of Liberia requesting establishing educational crimes court within the Country! It's clearer that the President in his wisdom is studying the situation and responds to the request from the Ministry of Education.
Also frustrated over these alleged indecent acts on the part of both students and instructors said Senator Gweh, said that those alleged perpetrators has given the Liberian educational system a bad and distasteful look in the eyes of her partners and the likelihood of them withdrawing their support are not far to reach.
My investigation on these alleged acts of sex for grades and monies led to the visitations on various high schools and universities campuses talking to students and administrators precisely the human resource managers.
At the State run University of Liberia, students spoken to say that some instructors often ask for brides despite one grades point! And moreover, it was also discovered that instructors openly discussed what they (students) got for them to see their grades!
Students especially the female are so traumatize, with some instructors asking for sex if they can't afford money to meet their demands which has become a tradition for as long one study at the State run university of Liberia!
Just across the street adjacent the University of Liberia is Stella Maria polytechnic when I visited there to speak to students again the horrible tales some of their instructor's involvement.
For their parts, I was told that some of the instructors as by their dubious transaction range from US $ 50.00 to 200.00! And in most cases female student who can't afford the money must have sex with said instructor or group of instructors!
At the office of the human resource at Stella Maria polytechnic, when I was ushered into her office I introduce myself as a Journalist working on an allegation concerning sex or money for grades at most of the universities within the Country.
She started out by indicating that it was an interesting discussion, but I must disclosed my source or else she will not speak to the allegation I raised! I told her due to the Ministry of education concern into this entire alleged happening of which they are asking for "EDUCATIONAL CRIMES COURT" to prosecute would be culprits!
She still insists that if I can't disclosed my source she will not continue the discussion! I then told her that her refusal to continue the discussion will be considered as the official respond of the Polytechnic.
Research works available, to this writer revealed that the Nigerian authority has imprison a professor who was recorded by a female student he was asking for sex in exchange for grades after thorough investigation by the educational authority!
This shows that, countries within the Sub-region are not taking their educational pursuit which is the bedrock for their human resource developmental growths that every Nation need to reach its zenith.
In serious conversation with stick holders within the educational sector, it has been revealed that this act of sex and monies for grades is an aged old aspect of the Liberian education in that nothing absolutely has and continues to be done to curtail this ugly act that has destroy the fabric of the Liberian society!
The writer is a Liberian Broadcast Journalist, Columnist and Writer and can be reach at Email: [email protected] Mobile: +231776590725/+231886224134.