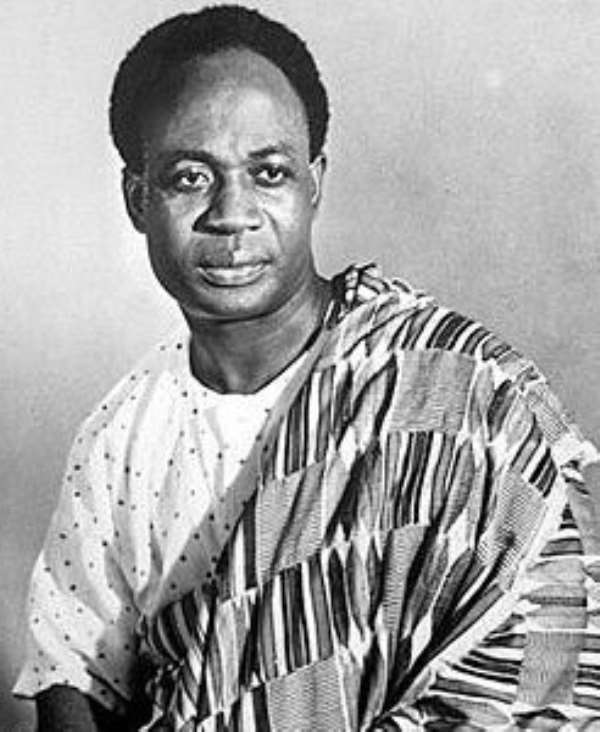 Then-Prime Minister Kwame Nkrumah's decision to marry the 25-year-old Ms. Fathia Halim Ritzk at 48 or 49 years old – Nkrumah was already known to have been dating a 19-year-old Achimota School pupil at the time – was one of the most scandalous moral and political blunders to have been committed by a leader who pontifically claimed to represent the dignity of the Black-African World and humanity to the rest of the global community (See "How It Took Kwame Nkrumah 6 Months to Get a Wife from Egypt" Ghanaweb.com 9/21/19). As the late Kenyan scholar professor and globally renowned political scientist Dr. Ali A Mazrui once noted, Nkrumah's ballroom dancing with Her Majesty, Queen Elizabeth II, at Buckingham Palace, and the Ghanaian leader's induction into Her Royal Majesty's Court as a CQ – or Queen's Counsel – was scandalously celebrated by our protagonist as the most epic elevation of the "Negro," I guess you could even say "Nigger," into the celestial realm of Western Civilization. That was, I believe, in 1957, the year of the reassertion of Ghana's sovereignty from British colonial imperialism. The fact of the matter is that Ghana and the rest of the former British African colonies never completely left, by the way.
It was also Nkrumah's most unfortunate moment of betrayal of the indigenous Ghanaian and African woman. Indeed, it was not for absolutely nothing that our Ghanaian sages of old perspicuously observed ages ago that: "Charity Ought to Begin at Home." He may, indeed, have been "an eligible bachelor" all right, as the author of the article referenced for our discussion in this column claims, but Mr. Kwame Nkrumah was on the eve of Ghana's year of the glorious reassertion of its sovereignty from British colonial imperialism the father of at least two Ghanaian children by two native Ghanaian women. One of these two women had given birth to a future physician spitting-image son of the future Prime Minister Kwame Nkrumah; she was a petty trader from the historic township of Elmina, where the then fast-rising and politically ambitious young Mr. Nkrumah was briefly a schoolteacher.
The other woman would go down the annals of modern Ghanaian history as the first native-born woman, perhaps even the very first African woman on the African continent in the postcolonial era to have been seated in Ghana's Parliament. She carried a baby daughter for the fast-rising global political player and increasingly autocratic leader long before the then Prime Minister Kwame Nkrumah decided to make an epic political issue out of his rather inexcusably scandalous decision to marry the young Egyptian Coptic Christian woman. It was, to be certain, the lowest moment in an otherwise glorious moment in Ghana's geopolitical history. But, of course, what is even more significant to observe here is that there is absolutely no credible evidence pointing to the fact of Mr. Nkrumah's decision to be wedded to an Egyptian woman having any remarkably redounded to the benefit of Ghana in ways that could not be equally said of countries like Kenya, Uganda, Tanzania, Zambia and Mozambique, Angola and later Zimbabwe.
Indeed, as has lately come into the global limelight in the wake of the passing of Zimbabwe's President Robert G. Mugabe (1924-2019), the latter's conjugal bond to the Ghanaian-born former Ms. Sarah Francesca "Sally" Hayfron (1931-1992), the soon-to-be Mrs. Sally Mugabe, is widely acknowledged around the world to have positively impacted both the future Prime Minister Mugabe, later President Mugabe, than President Nkrumah's much-ballyhooed marriage to Ms. Fathia Halim Ritzk ever had on the political and economic fortunes of Ghana. Indeed, legend even has it that it actually resulted in Nkrumah's exportation of a remarkable amount of the country's mineral resources to Gamal Nasser's Egypt. And today, we have the adult children of the late ousted dictator fiercely fighting to inherit the mantle of their late patriarch in a predominantly Akan matrilineal culture and a country where one's natural citizenship is reckoned via one's maternal heritage.
So, if anything at all, Kwame Nkrumah's marriage to his non-English-speaking Egyptian Trophy Wife has actually ended up creating confusion in the minds of his half-Arab-Egyptian children, who do not seem to have been accorded the same level of upper-class status in postcolonial Ghanaian politics and society in the country of their maternity. Then, of course, there is also that half-Egyptian out-of-wedlock son of Mr. Nkrumah who is alleged to have been fathered by the pathologically lecherous Ghanaian leader by another Egyptian woman during one of his "official pan-Africanist business visits" to the Egyptian capital of Cairo. It makes one begin to wonder whether, indeed, the late Ghanaian leader had any modicum of respect for both the institution of marriage and the African woman, Indigenous or Arabic.
We must also underscore the fact that Nkrumah has also been rumored to have fathered several officially unacknowledged African-American children, and possibly even a couple of half-white offspring, right here in the United States, while he sojourned here as a foreign college student. You see, on a momentous occasion like this, that is the commemoration of the 110th Birthday Anniversary of Ghana's first postcolonial ruler, one would rather discuss some of the most remarkable achievements of the most famous Ghanaian and African leader of his time, than pointlessly waste our precious time recounting how long it took for a veritable Casanova who clearly had absolutely no respect, whatsoever, for women other for use as sex objects or ready coital vents.
*Visit my blog at: kwameokoampaahoofe.wordpress.com Ghanaffairs
By Kwame Okoampa-Ahoofe, Jr., PhD
English Department, SUNY-Nassau
Garden City, New York
September 22, 2019
E-mail: [email protected]