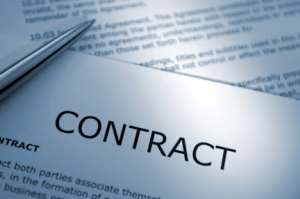 Should we end the award of public-sector contracts through restrictive-tendering? And, is the real scandal, in the exposure by Manasseh Azure, of the egregious insider-dealing engaged in by the CEO of the Public Procurement Authority (PPA), Mr. Adjenim Boateng Adjei, not that those in our secret services, who were supposed to have vetted him when his name came up for appointment to the position he held, failed President Akuffo-Addo, terribly?
How could a double-faced man, driven by such unfathomable-greed - lumbered with his disgraceful-past-record - succeed in being appointed to, and go on to hold, his position, as the head of the PPA, in a government headed by the incorruptible Nana Addo Dankwa Akufo-Addo? Clearly, the President has been stabbed in the back yet again, by those influential party members who came to exploit the system, so as to enable them increase their net worth - through the award of government contracts: 'won' by bidding in restrictive tenders.
Furtheremore, the unmasking of Mr. Adjenim Boateng Adjei, shows clearly that there was massive intelligence failure in his vetting. If Bryan Acheampong & Co had focused on working professionally, to protect our system, instead of concentrating solely on the treasonable act of packing our national security apparatus with myrmidon-thugs sympathetic to the New Patriotic Party (NPP), for the dubious end of intimidating voters natiowide during the 2020 presidential and parliamentary elections, this unpardonable-abomination would have been avoided. Definitely.
President Akuffo-Addo must sack Hon. Bryan Acheampong. Now. Not tomorrow. Hmmm, Oman Ghana eyeasem ooooo - asem kesie ebeba debi ankasa.
And, is it not typical of Hon. Kennedy Adjapong (whose family has benefited from 'restrictive public-sector tendering', incidentally) that he seeks to damage the reputation of the brave and patriotic Mannesah Azure - by deliberately making Mannesah's professional need to accept what Kennedy Adjapong calls "a GHC1000 bribe", so as to enable him successfully unmask the dreadful Adjenim Boateng Adjei: by describing it as an act of corruption? The moral of this shabby tale, is that as a nation, we must end restrictive tendering for public-sector contracts. They are as bad as awarding public-sector contracts through sole-sourcing tenders.