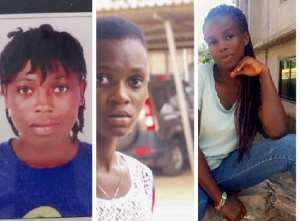 There is a news report circulating on several Ghanaian media websites or news portals captioned "3 Kidnapped Takoradi Girls Not Dead – Key Suspect Insists" MyNewsGh.com / Ghanaweb.com 8/5/19). In the said news report, we are informed that Mr. Samuel Udoetuk-Wills, the alleged chief mastermind in the kidnapping of the three Takoradi young women, has told police investigators that his victims are still alive and have been relocated to Nigeria where they are presently living. Now, this is a tough sell and, at best, a mixed blessing to the parents, relatives and friends of the kidnap victims. It is a mixed blessing because these young women are still, as we speak, in captivity; we also don't know in whose custody these young women are; as well, what sort of lifestyle they may be forcibly engaged in, especially knowing what we already know about the scandalous treatment meted the kidnapped Boko Haram Girls.
You see, for us, that is, for the most part, civilized Ghanaians, the quality of the kidnap victims' existence is as important as the mere fact of their survival. For those of our readers who may not be familiar with the following proverb, among the Akan, we often say that: "Given a choice between death and humiliation, humiliation is the better alternative." In sum, even if our three young women are "safely" returned to their relatives and loved ones, the wanton physical and sexual abuse that they likely must have endured would take a very long time to completely overcome or recover from, that is, if ever at all. More likely than not, such trauma as they would have endured, would likely last a lifetime. But, of course, getting our daughters back and alive would be far better than dead and thoroughly decomposed and beyond recognition, although thanks to the magical technology of DNA, we would still be able to have some closure to this nightmarish experience, however wishful this may seem to be.
But, of course, until such "good news" becomes a reality, we still need to get to the bottom of whose skeletal remains were recently located in the septic tank that was widely reported by the media, citing police investigators. For starters, police investigators and forensics experts have been reported to be saying that the skeletal remains uncovered in the Takoradi septic tank, near the residence of the criminal suspect, that is, Mr. Udoetuk-Wills, are that of several human beings. At least two human skulls are also reported to have been recovered. What is left to be forensically established beyond any shadow or iota of doubt, of course, is the fact of whether these skeletal remains are those of human-female victims. And then if the gender identity of these remains is established beyond any reasonable doubt, the question or the fact of whether, indeed, these remains belong to the three still-missing victims, namely, Ms. Ruth Quayson, Ms. Priscilla Blessing Bentum, and Ms. Priscilla Koranchie.
As of this writing, police investigators were reported by the media to have begun the critical process of DNA analysis in the Ghana Police Service's Forensics Laboratory at the Accra Headquarters of the Criminal Investigations Department (CID) of the Ghana Police Service (GPS). Initially, we were told that the relatives of some of the kidnap victims were reluctant to cooperate with police investigators in the collection of DNA evidence. The reasoning here was that the police had lost credibility because they had not studiously followed through with tips and clues provided them by the parents and relatives of the victims. This is rather curious, as we have also learned that the work of police investigators may very well have been seriously hampered because some of the parents and relatives of the kidnap victims are known to have begun negotiating with the alleged kidnappers over the payments of ransom moneys quite awhile before bringing in the police to track down the kidnappers.
Whatever the ultimate outcome of this case may be, it is quite clear here that the Public Relations Department (PRD) of the Ghana Police Service has its work of educating parents and Ghanaian citizens and the public at large, on how best to handle such emotionally intense and delicate situations, cut out for it. Let us hope that some teachable lessons have been learned here.
*Visit my blog at: kwameokoampaahoofe.wordpress.com Ghanaffairs
By Kwame Okoampa-Ahoofe, Jr., PhD
English Department, SUNY-Nassau
Garden City, New York
August 5, 2019
E-mail: [email protected]