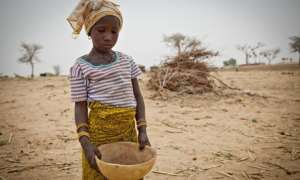 The UN Convention on the Rights of the Child (CRC) is the first of its kind which gave recognition to children as rights holders in an international treaty. It marked the transition from addressing children's immediate needs through charity alone, to galvanising the move towards advocacy that should bring about systemic change for the realization of children's rights.
2019 marks the 30th anniversary of the CRC and in joining to celebrate it this article calls on all to help end child rights violations. The writer wants to use this to create awareness about the CRC, and the various child rights violations in the country, as well as to mobilize stakeholders to do more in translating child rights into reality in Ghana.
It is instructive to note that Ghana happens to be the first country to sign and ratify this convention. It is however sad to note that the rights of millions of children are being violated every day in the country. Rising levels of Child Poverty, teenage pregnancy, lack of educational and livelihood opportunities, high child morbidity and mortality ratios, violence, abuse and exploitation of child, child labour, child trafficking and many others are a few of the rights of children that are being violated in Ghana. This article also draws attention to a peculiar and somehow nasty child right violation, which is very rampant in Ghana and that is Child Marriage.
Indeed child marriage is truly a global problem that cuts across countries, cultures, religions and ethnicities. Statistics show that worldwide each year, 12 million girls are married before the age of 18.That is 23 girls every minute and nearly 1 every 2 seconds. The prevalence rate of child marriage is however very high in Africa than in most areas. Of the 20 countries with the Highest Rates of Child Marriage 17 are in Africa.
The picture in Ghana is not very much different in Ghana. Even though child marriage, i.e, marriage in which a partner is below 18 years of age is illegal in the country, except at 16 with child and parental consent, child marriage is a practice estimated to affect 1 in 5 girls.
According to UNICEF, 21% of girls in Ghana are married before their 18th birthday.
These rates vary greatly between regions and can be as high as 39% in the northern part of the country, but only 12% in Greater Accra Region.
Child marriage is very often fueled by gender inequality, poverty, traditions, and insecurity. But these causes are not insurmountable problems, and we must tackle them seriously, given their devastating impact on the girl child, society and the economy of our country.
The impacts on the girl child should be seen as a human rights violation that can produce devastating repercussions on a girl's life, effectively ending her childhood. These also include the huge challenges that child brides face because they are married as children. They often feel isolated and with limited freedom, often feel disempo­wered. They are deprived of their fundamental rights to health, education and safety. Child brides are neither physically nor emotionally ready to become wives and mothers. They are, therefore, likely to experience dangerous complications in pregnancy and at childbirth, contract HIV/AIDS and suffer domestic violence. With little access to education and economic opportunities, they and their families are more likely to live in poverty and to be trapped in the trans-generational cycle of poverty. Moreover, child marriage usually destroys the future marital life of the girl child as available evidence suggests that child marriage almost always ends in failure.
Communities and nations equally feel the negative impact of child marriage, in that systems that undervalue the contribution and participation of girls and women limit their own possibilities for growth, stability and transformation.
On account of these reasons the government of Ghana has for long appre­ciated child marriage as a major impediment to the development of the country and the full realization of the rights of children in Ghana. It has thus developed coordinated responses to child marriage in Ghana including the following:
Several legislations such as the 1992 Constitution and Children's Act, which set the minimum age of the child and of marriage at 18 has been enacted. The Criminal and other Offences Act even outlaws in principle child marriage.
Safe space programmes have also been initiated with economic empower­ment components such cash transfers, educational and skills training to build girls' self-confidence and offer them alternative livelihoods.
Advocacy: The government has also increased its advocacy to end Child marriage by 2030 by initiating a national campaign to end child marriage in 2016, which culminated in the first African ladies conference in 2018 in Accra on Ending Child Marriage.
The Ministry of Gender, Children and Social Protection has also being playing a lead role in national efforts to end child marriage. It has even established a Child Marriage Unit to better coordinate efforts to addressing the canker. It has also developed a 10-year National Strategic Framework to provide an integrated vision and direction to all stakeholders towards ultimately ending child marriage by 2030.
Ghana has mainstreamed the global development agenda, the SDG, to improve lives across the country to leave no one behind by 2030. Child marriage, however, stands in the way of progress towards many of the 2030 Global Goals. It behoves, therefore, largely on all stakeholders, especially, the government and legislators, to develop new strategies and strengthen existing child protection systems to end child marriage. The success of these efforts would, however, depend largely on political commitment, continuity and consistency of programme implementations and prioritization of adequate resources that are committed towards achieving the laudable goal of ending child marriage. I firmly believe that we can end child marriage by 2030. Let us make it happen.
By Appiah-Kubi, Kojo, PhD