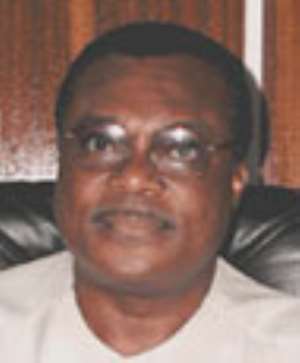 Accra, Feb. 10, GNA - Major Courage Quashigah (rtd), Minister of Health, on Friday closed the 46thConference and Scientific Meeting of the West African College of Physicians and Surgeons in Accra and challenged them to reposition themselves as leaders in promoting preventive medicine.
Major Quashigah underscored preventive medicine as a better option to curative medicine, echoing the adage "prevention is better than cure", he urged the doctors to see curative practice as the last resort of their actual expertise.
"This is the basis for my new paradigm for health care delivery. It does not take anything away from the practice of medicine. I believe it will rather make you more important with a higher premium in society," Major Quashigah said at the ceremony at which a total of 158 new Fellows and 42 Diploma holders were admitted into the College.
The five-day conference placed a high premium on the development of middle and high-level manpower in the health sector and discussed the prevention and management of various malignancies.
It also laid the path to be followed in search for appropriate management of various diseases.
Major Quashigah said the HIV/AIDS menace and the increasing incidence of non-communicable diseases were all health problems that fell into the category of diseases that were precipitated by changes in lifestyles and, therefore, could only be controlled by changes in such behaviours.
Major Quashigah said ailments like heart disease, obesity, diabetes and cancer, hitherto associated with affluence in the developed world had now become life threatening diseases in developing countries. He pointed out that such diseases needed not to be malignant if their causes were well understood, in addition to conscious effort to do the right things that would prevent them in the first place or slow their growth if they showed up.
Major Quashigah queried doctors: "How many people know these facts apart from you? And what efforts have you made or are making to inform your patients and would-be patients about these facts?" He added: "Don't forget that a sick person looks up to the doctor and other health professionals for advice."
He attributed the inability to provide the needed level of funding for specialist services to the re-emergence of communicable diseases that were creating new public health demands and causing unexpected diversion of public health resources.
Major Quashigah reminded the medical professionals of the power they wielded over their clients and said the only way they could arm themselves to provide beneficial answers was to constantly read beyond their medical books.
"You may even have to acquire some knowledge on consoling passages in the Bible and Koran," he said, and suggested that faith based complementary subjects should be added to the curriculum for training health care professionals.
Prof. Edward Donkor Yeboah, President of the College, said the symposium on the development of middle-level manpower discussed the shortage of specialists in rural communities inhabited by 260 million people in the West Africa Sub-Region.
Statistics indicate that one specialist attends to more than 71,000 people against the desirable 1:20,000. One obstetrics and gynaecology/general surgery specialist attends to between 300,000 and 500,000 people and one orthopaedic and trauma/urology specialist attends to more than three million people.
Prof. Yeboah announced plans to establish centres of excellence for surgeons at all teaching hospitals, revamping of facilities as well as clinical research methodology course for all institutions as part of the continuing education of the College.
The Conference at which 200 papers were presented at the scientific sessions, recommended increased output of specialists, attraction and retention of fresh medical graduates in member countries and offering of dual appointments at Teaching, Regional and District and Specialists Hospitals.
Prof. Daniel Adzei Bekoe, Chairman of the Council of State, praised the Conference for placing the development of human resource, which together with good governance and private sector development formed the pillars of Government's development strategy, high on the agenda. He commended the efforts of doctors, who defied the quest for greener pastures to stay and work in the Sub-Region.
Prizes were presented to distinguished fellows. Dr Edward Azumanu of the Korle-Bu Teaching Hospital won the Best Prize for Surgery in 2005.
The prestigious St Paul Award of the British Association of Urological Surgeons, given to distinguished overseas fellows for outstanding service, was for the first time presented posthumously to the family of the late Prof J. Marmon Quartey, who died in a motor accident in 2005.
His son, Ian, almost to the point of shedding tears, said, "Thank you" as the august audience gave a standing ovation in memory of the distinguished Urologist. 10 Feb. 06