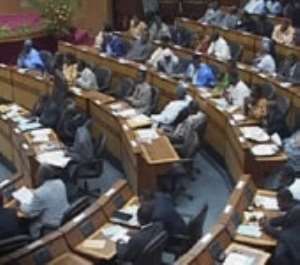 As the debate over the proposed $200 million Parliament chamber continues to gather steam on both social and traditional media, I've watched several videos of MPs attempting, rather fruitlessly, to justify the need for such a project.
The one video which broke my heart, and drew much of my indignation, is that of Majority Leader, Mr. Osei Kyei Mensah Bonsu, arguing that the divide between both sides is so small it could lead to 'something' if passions are inflamed.
I've watched the video like a million times, trying very hard to process why, arguably, one of the country's most brilliant political minds, would drag his impressive resume through the mud with this "whimsical" attempt at justifying the need for the project.
He is also on record to have said that the expensive expansion would allow the president to swear in Parliament before Parliament and also allow MPs to attract the eyes of the speaker.
Now, why would one of Ghana's finest debaters, peddle these rather 'juvenile' reasons on national TV? Broadly speaking, why do you our politicians and the rich and powerful act like they've lost touch with reality? Why do they think they're above the law? Why do they drive their V8s with sirens and make nonsense of all traffic rules? Why do they steal the resources of the state with so much impunity?
There's a theory for it: POWER PSYCHOSIS - defined as "a syndrome that results from having too much UNCHECKED power for too long".
As a syndrome, power psychosis can affect anybody, irrespective of their moral compass or how religious they are, if a nation fails to implement a system of accountability which saves us from our own ourselves. It is the kind of ailment which would make a man delude himself into believing he's an angel, for instance.
Here's an explanation from Psychology Today:
"Decades of research have shown that many of us in high power – the wealthy, the famous, the strong, the politically advantaged, and those in positions of high authority – tend to become increasingly susceptible to forms of power psychosis.
It works like this. The longer people remain in high power, the more they process information abstractly, perceive other people in instrumental and stereotypical terms, become more self-confident and less inhibited, make riskier choices, and have reduced capacities for complex social reasoning and moral judgment.
They also become less likely to adopt someone else's perspective, are less-accurate judges of other's emotions, and recall less correct information about subordinates. They even begin to see other people as physically smaller.
In time the powerful can develop a sense of super-optimism, a form of hubris where they feel they can do or say whatever they want, often moving to evermore egregious violations, believing they can't be caught or punished. Of course this occurs within cultures, institutions and norms that allow it to run unchecked.
When the powerful find themselves in disputes with others, their delusions really kick in. People in high power tend to become very comfortable adopting a domineering conflict style and often lose the capacity to respond in other ways.
They monopolize speaking time and speak out of turn, are much more likely to express their private opinions and true attitudes, and are much less affected by the expressed attitudes or persuasion attempts of others. They also pay less attention to lower-power disputants, overestimate their own power and underestimate the power of others, fail to sufficiently understand the disputes they face, and are more inclined toward breaking rules and laws".
The old folk ruling this nation is perhaps the most privileged generation in our history: they escaped all the inter-tribal and colonial wars, they escaped the two world wars and the Spanish flu, they escaped the great depression and the fight for independence.
They enjoyed all the benefits of a newly independent and rich nation (with per capita income higher than China). They had the best quality of education, multiple scholarships, didn't have to struggle for jobs after graduation, never experienced 'perching'. Theirs is the generation said to have demonstrated over being fed too much sardine.
They received so much from the nation and what have they given back in return? Poverty, misery, indiscipline, loss of patriotism, classism, unsustainable debt, visionless leadership, corruption, lack of accountability, turning our people into beggars, hopelessness... They've lived in a bubble for so long they've lost touch with the reality of life experienced by the average Ghanaian.
In about 30 years' time, they'd be either too incapacitated to rule or dead, because death is inevitable even if our delusions make us feel we would occupy our spaces forever (more progressive societies are conscious of this fact, and are determined to make life better for those who come after them). Then a new generation, our generation, would take over the reins of power.
The challenges which would confront us as a nation then would be much more difficult to surmount: population growth set to double (putting too much pressure on social services and further deepening the economic divide, with its attendant problems), skyrocketing unemployment, mass immigration from neighboring countries...
Now, do I have hope in the capacity of our generation to deliver economic development for our dear nation? Erm...not exactly, but I do fervently believe that we would do better than this current ruling elite, who are focused on building their monuments of shame.
To achieve that, we ought to have some serious introspection as a nation. Let us begin by admitting that neither the NPP nor NDC has the independent capacity to deliver social and economic progress for our people. Let us escape the rather erroneous belief that one man or woman, sitting in the Jubilee House, could use 4 or 8 years to change a nation of 30 million, whilst fixated on elections.
Let's begin to think in terms of a strategic national development agenda which is robust to political 'upheavals' i.e. systems instead of people. And above all, let us build a system of accountability, for without them, none of us can truly escape the pull of power psychosis. And those of us who are vehemently opposing such needless projects may one day be the ones initiating them. God bless our homeland.
Kwadwo Agyapong Antwi
The writer blogs on social, political and economic issues at www.thinkingwityou.wordpress.com
Follow him on Twitter at kwadwo_aa