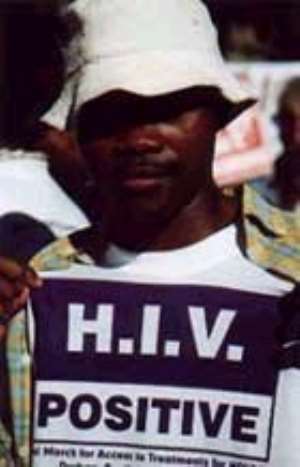 AT LEAST about 20,000 people who had been declared HIV positive by the laboratory test from the Public Health and Reference Laboratory of the Korle-Bu Teaching Hospital have been saved from dying unnatural deaths. Some of the patients had their treatment within 3 months and 3 weeks as a result of sharp herbal medicine introduced to them by Dr. Oheneba Amoako Akwasi.
The Sun newspaper has gathered a voluminous documents from the Public Health Reference Laboratory that indicated all those who were HIV positive are non-reactive after the treatment.
In an interview with Dr. Amoako at his herbal centre at Nungua he said he started treating this dreaded disease in 1972 when it used to be called "slimming disease."
Even though documentary evidence to indicate that Dr. Amoako is treating the disease is made available to all the necessary offices yet it has not been made public.
In an interview with the Director of Ghana AIDS Commission, Prof. Awuku Sakyi Amoa, said his outfit is aware of the work that Dr. Amoako is doing but he had constantly refused to submit his herbal medicine for research.
According to Prof. Awuku, there are other herbals that have been accepted and is introduced to the patients in different but as to whether that herbal can cure the disease still remain unanswered.
He said the Ghana AIDS Commission cannot help the herbalist in anyway unless otherwise his medicine is accepted by all the research institution. According to Dr. Amoa when he submitted the medicine the money that was demanded was far above his capacity to pay however the research institution failed to perform the research.
The Sun's recent visit to Brong Ahafo has indicated that the message of Dr. Amoako has not reached that far and those who have heard it do not believe in the advert that was put in the media.