The Rev Owusu Bempah In Irbard Ibrahim Is Finally Showing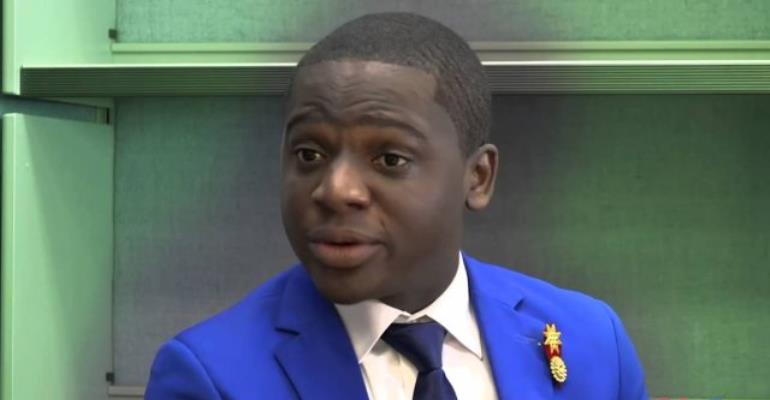 The Ghanaian society, as we see, has produced great men of honor and at the same time made heroes out of fools. The justification for this may probably be the reason why in the world of science, both 'negative' and 'positive' are badly needed to achieve a desired goal. In real life, however, it is important to segregate men of honor in society from those who are pale shadows of society's benevolence but want to fiercely foist their crook ways down our throats.
For some years now, Ghanaians have come to live with the reality that on December 31 of every year, Rev Owusu Bempah will craftily select some wealthy septuagenarians and possible 'near grave men" and forecast their deaths in the preceding year with his much vaunted mantra, "if we do not pray." In the preceding year if none of those he forecasted their deaths died, he will say Ghanaians prayed to avert his/her death. But if any of those on his death "roll call" died, he will run to the media, preferably Accra based OK FM, and claim credit for it.
Rev Owusu Bempah perfected this act and luckily warmed his way into the political belly of the ruling party where he is enjoying the trappings of political power. However, Ghanaians have come to terms with his "guess works" packaged as prophecies and have accordingly made a fool out of him. Any wonder how he set a world record in recent time by apologizing for one of his dubious prophecies? Incredible! Such is life; when you continue to fool people, they will one day lift the veil of foolishness from their faces.
From all indications, Ibrahim Irbard, the young man who shot into prominence on the ugly waves of security analysis, is not too different from Rev Owusu Bempah. Both belong to different trades both they possess the same strategy of playing on the intelligence of unsuspecting people to get food on their tables. This young man started as security expect/analyst then graduated to international relations expect, to peace ambassador and until recently was pushing to become a PR practitioner without adequate training in any of these noble fields. There is absolutely nothing wrong with a smart hungry soul hiding in a ghetto somewhere to take advantage of a gullible society to get himself busy and make some coins. It's a way of society finding job for an idle hand.
What is unacceptable is when the said hungry soul, after society had tolerated him to further his trade due to poverty and harsh economic conditions, wants to showcase his sophistry to the world. Many Ghanaians fell in love with Irbard Ibrahim when he emerged on the scene as security analyst. Though at the time he had no training in security and was not qualified to hold himself out as security analyst, the media gave him the opportunity to be heard. In Ghana, it is easy to become as expert in a particular field. All you needed to do is to get the media to force that title on you and you are cool to go. This explains why lawyers who have served two or so years at the bar are annoyingly allowed to share the revered title of "legal luminary" with the likes of Lord Denning, Lord Wilberforce, Prof Crabbe etc.
This young man called Irbard Ibrahim had a clever way of courting media attention. He will listen to renowned expects on Aljazeera, BBC, DW and other international media outlets, read security theories and security related books, and with his eloquence, package it as an expert opinion and present it to a non-reading society called Ghana. Social media has been his biggest helper. He will first put the opinion he has gathered from his sources on social media and tag known journalists who will assist him popularize it by interviewing him. Though there is nothing 'expert' in the opinions he puts out, society has allowed him to get away with it due to the mantra of "boys for chop". Experts do not walk with poverty stricken stomachs. Experts are armed with scientific analysis to solve societal problem.
The little money Irbard has made from his guess works has gotten into his head, and he is now turning, if he has not already turned, into a scammer who seeks to extort money from big men who come under attack for all the wrong reasons. When Kwesi Nyantekyi came under heavy censor due to Anas Aremeyaw Anas' expose, Irbard Ibrahim saw it as another fine opportunity to make money. He quickly put up a post on social media to support Nyantekyi. To court the attention of Nyantekyi, he tagged him and persons close to him. He did this to alert Nyantekyi that there is one Irbard Ibrahim in some ghetto fighting for him at a time almost everybody was against.
When Nyantekyi, out of his desperation to get out of the web, probably met him to explains issues to him and presented his defense to him; and probably "small" kola boost the defender's moral. "Man no go fi work on empty stomach." Irbard Ibrahim, without the express sanction of Nyantekyi, announced on social media that he had been appointed spokesman of the disgraced former Ghana Football Association President. It turned out that Nyantekyi did not appoint Irbard as his spokesperson. In fact, the boy told a big fat lie. We all saw and heard Nyantekyi's spokesman in the person of Dr Martin Luther Obeng speak to the issues.
When the Menzgold issue came up for discussion. Ghanaians were so sure of reading Irbard's weird opinion on it. What Ghanaians, perhaps, never anticipated was his clever ways of making money out of it. Recently, Ibard put up a post on social media, with contacts attached, that he had created a center to manage the anxiety of customers of Menzgold. This heartless "boy" wanted to 'squeeze' money from persons who had lost their lifetime investments. When nobody paid attention to him, he abandoned that pet project. Business gone bad, I guess. He attempted a similar strategy with a self-conferred title, "peace ambassador" ahead of the 2016 election. He tried all means to popularize it in the media in order to get organizations to donate towards his peace project, but nobody took him serious. This was because Ghanaians have come to realize his desperate and self-promotional gimmicks, and perhaps, "yenti gyae" fanaticism.
The latest of his attempt to make money is his spirited defense of the Minister of State at the Presidency in charge of National Security, Bryan Acheampong. Without conscience, and without the human feeling that most of the guys shot at Ayawaso West Wuogon by Bryan Acheampong's thugs are his Muslim brothers, Irbard says nobody should spit fire on the Minister who has taken full responsibility of the roundly condemned act. Again, in all his facebook posts to defend the Minister, he tagged him and his close associates, hoping to get a call up for some few coins to energize him to do more of the defending work. When that trick was probably not working to perfection, he has formed a one-man group, "Friends of Bryan Acheampong" headed by him to crusade his agenda of getting the attention of the minister at all cost to reward his effort. Which security expert or international relations expert does this. If one is hungry and desperate for money, it is better to work hard for it but the way Irbard is doing his is a bad example.
This country has seen renowned security and international relations expert like Dr Kwesi Anin, Vladimir Antwi Danso, Emmanuel Bombande and the likes, none of them used this desperate and crookish strategy to get to where they are. If any of them had used the path Irbard has chosen, they would have lost credibility and relegated to the background long ago. Irbard should reflect on the feedbacks he got when he started his career and the feedback he is getting now. That alone should tell him he is sinking and very soon, not even a test-transmission radio or TV station would love to have him on their shows. The same society that made him when we thought we would be of benefit will be the same society that will pluck him now that he is becoming a nuisance.
Asabaham-Domeabra Obom Constituency