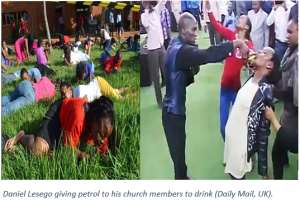 All too often, Ghanaians have been quoting the sanity and development in Rwanda and piling up praises to Paul Kagame, the president. The small country in East Africa has been fighting corruption vigorously to steer the country on the path of economic transformation. In doing so, it also became relevant for the country to close down some one-man-owned churches. There is order in Rwanda at the moment.
When it comes to Ghana, we often hear that we do not have laws to control the deliberate armed robbery and murderous activities of these one-man churches. God will never rain down such laws. The most annoying part of the one-man-owned ministries is their death threats (or death predictions). Meanwhile, it is believed that the 1960 criminal act (clause 75) criminalises death threats and the punishment is up to 10 years jail term. No enforcement? No amendment?
The Rwandese might have learnt from what happened in Uganda in the year 2000, when a religious sect committed a mass murder-suicide. Apart from the money that these fake prophets and pastors have been extorting from their members, some activities of their churches are very dangerous and deemed to be precursors of a mass murder-suicide.
Recently, a South African pastor, Lesego Daniel, commanded his church members to eat grass. As if that was not enough, this lunatic then gave some petrol to his members to drink. The precursors of the things to come are very obvious. In Ghana, someone has been cooking soup for his church members. Obinim commanded a woman to carry a bag of cement for a return trip of more than 2km, and by foot. The woman collapsed afterwards. On the 31st night, a congregation were chanting with cutlasses. Ghana! Oh my country Ghana! Wake up!
These fake men of God are a menace to national security. They cause fear and panic, destroy marriages, destroy families and destroy the nation. They promise that stickers and creams will protect members but they walk in the convoy of armed body guards and sometimes with policemen. They are camping people and making them lazy.
In John 2:16, Jesus said, "How dare you turn my father's house into a marketplace?" and in Mark 11:15-17 Jesus wondered how His father's house could be made a den of robbers as he drove out those who were buying and selling there.
If our leaders will not act, it is time for the perceived traditional churches like the Roman Catholic, Assemblies of God, Church of Christ, Deeper-Life and the Methodists to unite and stand against the greedy wolves in sheep's clothing.