Talking Startup With Justice: Why Most Startups Fold Up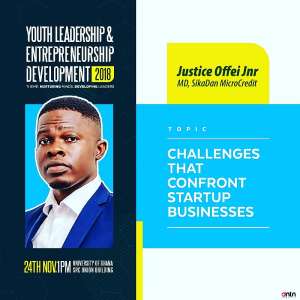 On 24th November, 2018, I got the opportunity to address students of the University of Ghana on the topic "The Challenges that confront Startup Entrepreneurs " at the Youth Leadership and Entrepreneurship Development 2018 organized by the Young Entrepreneurs Network (YEN).
Challenging the students to take intrepid steps to start their own business and become leaders of their own passion , I emphasized that A Business Idea is Nothing Unless you start it.
As the narrative of economic development is evolving negatively towards unemployment hikes and Low level of job creation in Africa , the need for entrepreneurs with viable and problem-solving Ideas is an obvious choice of direction a country should be encouraged to promote.
Sharing with the audience what the top most challenges confronting startups are , I chose the the following;
1. Lack of Profitability:
Almost all African startup businesses fold up as a result of lack of profitability. Per the Global Entrepreneurship Monitor (GEM) Reports , this has been the most consistent top reason why startups fold up in Africa.
The capacity of startup owners to develop their business ideas into a viable and profitable business model among other lacking entrepreneurial framework conditions has been a challenge for many entrepreneurs.
Solution
Entrepreneurs must subject themselves to more coaching / mentoring and invest much time in acquiring more knowledge to convert their business ideas into a viable business model. Once their businesses begin to generate enough revenue , profit can be maximised.
2. Lack of Funding
Among the corridors of every entrepreneur's challenge lies the sources of funding issues.
Most businesses are unable to attract investors simply because of their viability of the business model. When your business model lack realistic financial projection of profitability, investors or family and friends may be discouraged to invest their hard earned money to help you build your business.
3. Poor Entrepreneurial Framework Conditions:
"A good seed can't sprout from the ground with poor fertility".
Government can do great good to startups if strategic but tailor-made policies are implemented to support the growth of startups.
More importantly, a supportive Entrepreneurial Framework Conditions where registration of business can easily be done via an online portal , where there is a tax exemption for startups , where there's national budgetary allocation of stipend for entrepreneurs among many others can greatly create an enabling environment for startups to flourish.
Facebook , Amazon and Uber all received support from Silicon valley to be where they are now.
Solution:
An Enactment of Startup Act (Entrepreneurs Law) for entrepreneurs in Ghana can surely change the narrative above.