Ambassador Barnes Preaches to The Choir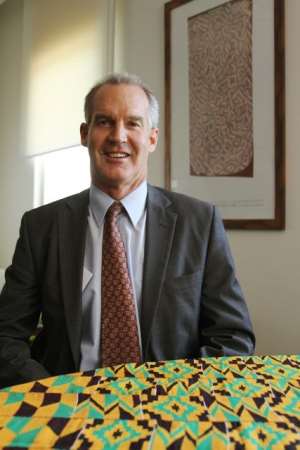 He is reported to have stated in answer to a question that the leaders of Third-World countries must be careful not to be fixated on excessive borrowing for development projects that may not be worth the investment debt their countries may be saddled with for generations to come (See " 'You Can't Keep Taking Endless Loans for Projects' – Australian High Commissioner" CitiNewsRoom.com / Modernghana.com 9/7/18). If s/he were sophisticated enough to be able to read between the lines, as it were, the reporter who wrote the news story in reference would have readily realized that the Australian Ambassador / High Commissioner to Ghana was more directly addressing the profligate robber-barons of the country's main opposition National Democratic Congress (NDC), with absolutely no exception. Indeed, it was former President John Dramani Mahama who once said that recklessly mortgaging the country's new-found oil wealth for unplanned infrastructural development was the way to go, according to what he had either learned or been told by some Norwegian politicians.
The fact of the matter is that when it comes to public transactional transparency, no Fourth Republican Ghanaian leader has demonstrated his governance culture to be more transparent than President Addo Dankwa Akufo-Addo. Which is why I am a bit taken aback that the President would consent to having the ongoing hearings on the collapsed banking industry held by Parliament in camera. We shall take up this subject in due course. For now, though, we vehemently take issue with Ambassador Barnes, at least suggestively, that the Akufo-Addo-led government of the New Patriotic Party may be hiding something from the Ghanaian public vis-à-vis his $ 50 Billion (USD) unprecedented volume of contractual agreements with the Chinese government. And, especially, that other equally commercially competitive countries or potential investors may have been inadvisably shut out of such mutually lucrative deals; actually, Mr. Barnes doubts whether Ghana got the best possible deals that it could possibly get on the global development-funding market.
Well, what we really need to be asking ourselves is precisely why did Third-World countries like Ghana resort to forging closer economic-development ties with "Communist" China? And with our perennially raw deal with the Bretton Woods Establishment – that is, the World Bank and the IMF – in the back of our minds, the simple answer is that the Chinese have positively demonstrated that they have genuine interest in helping those Third-World countries which had hitherto been wantonly exploited and unconscionably shortchanged by their former Western-European colonial and imperialist overlords. It is not as if the clinically clueless Mahama Posse had not pushed their luck with their Chinese counterparts before. Plus, the fact that in terms of capacity for further exponential industrial and technological growth, the West may very well be at its metaphorical tether's end, which is why suavely kibitzing diplomats like Ambassador Barnes have been desperately seeking to strategically slow down the seemingly inexorable economic-development onward march of ambitious Third-World leaders like Nana Akufo-Addo.
It is only pathologically corrupt and fiscally reckless and undisciplined leaders like former President John Dramani Mahama who need the sort of elementary counsel offered by Canberra's Resident Chief Diplomat in Accra. I make such clearly damning and morally caustic observation because it was the Mills-Mahama regime that unwisely and criminally diverted the $525 Million (USD) Brazilian loan meant for the construction of the Pwalugu and Juala dams, in the Upper-East Region and Northern Region, respectively for the construction of some boondoggle called the Eastern Corridor Highway. These dams, originally conceived by the John Agyekum-Kufuor-led government of the New Patriotic Party, would have strategically and wisely eased up the annual deadly flooding of the so-called Three-Northern-Regions caused by the opening of the sluice gates of the Burkina Faso-located Bagre Dam. It is such flagrant, to speak much less about the downright criminal, diversion of funds meant for safeguarding the security of his own people that Ambassador Barnes must have had in mind when he made the statement and observations attributed to him.
You see, China's leaders are smart and more than sophisticated enough to recognize the sort of visionary leaders in Africa who deserve their partnership assistance to implement foresighted and intelligently and progressively articulated development plans and policies.
*Visit my blog at: kwameokoampaahoofe.wordpress.com Ghanaffairs
By Kwame Okoampa-Ahoofe, Jr., Ph.D.
English Department, SUNY-Nassau
Garden City, New York
September 8, 2018
E-mail: [email protected]