National Cathedral Construction Will Create Jobs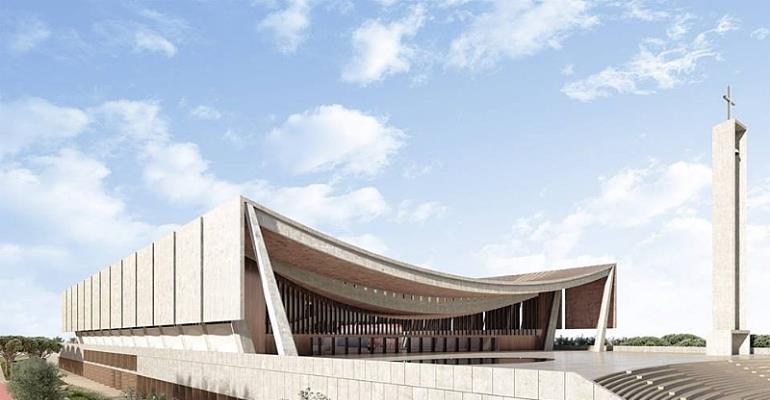 Those of our relatives, neighbors, friends and fellow citizens who are frenetically busy, self-righteously, hypocritically and caustically criticizing the Akufo-Addo-led government of the New Patriotic Party (NPP) for proposing the building of a 5,000-seating National Cathedral, in the heart of Ghana's capital of Accra, do not appear to have thought much about their reasons for so cavalierly and flippantly pooh-poohing the rationale behind this otherwise all-too-noble project; else, they would have long recognized how the positive aspects of this project far outweigh any drawbacks or negatives that may be associated with the same. They ought to also be grateful for having a visionary and progressive statesman like Nana Addo Dankwa Akufo-Addo as their President. Remember President "You Have Absolutely No Right To Criticize My Presidency"? Well, we hear from the proverbial grapevine that he is desperately fighting hard to come back to power in order to definitively, systematically and logically conclude his unfinished project of wanton thieving, regional-tribalism and total destruction of Ghana.
We firmly believe that this Bole-Bamboi petty chieftain and unconscionable arm-twister may be hopelessly hooked up on some psychedelic contrabands; for he tells us that he has been hearing the Voice of his half-Muslim and half-Christian God asking him to defy the will of the very voters who twice rejected him, by the count of Mr. Johnson Asiedu-Nketia, the General-Secretary of the National Democratic Congress (NDC), and forcibly hurl himself back into the former Flagstaff House, presently renamed Jubilee House. And by the way, for the instruction and enlightenment of that intemperate "Yamoussoukro" critic throwing his self-righteous darts from that infamous Western-European country with a long and an unenviable history of wanton African exploitation and abject dehumanization, President Addo Dankwa Akufo-Addo is far more likely to have taken his cue or inspiration for the construction of a National Cathedral from Protestant-Christian America, where our Washington, DC-located National Cathedral has more diverse and multipurpose functional usage than the 7,000-seating boondocky Notre Dame Basilica in La Cote d'Ivoire (or The Ivory Coast), the largest of its kind outside of the Vatican, in a war-ravaged country where an estimated 60-percent-plus of the population is alleged to be of the Islamic faith. We also need to quickly point out that unlike Protestant-Christian-Majority Ghana, the overwhelming majority of the estimated 30-percent of the Christocentric Ivorian citizenry pledge allegiance to Roman Catholicism. In other words, they swear by the feet of the Pope.
Besides, the last time that I checked, absolutely no Ghanaian leader, least of all President Akufo-Addo, was taking his national development cues or marching orders from either the influence of the late President Felix Houphouet-Boigny (properly speaking President Felix Offei-Boahen, of Nsuta-Ghana), or the current leader of the war-battered but fast-recuperating country and France's stooge, to wit, President Alassane Dramane Ouattara. But I am here even far more interested in answering, blow-by-blow, every one of the reasons given by the Akufo-Addo critics as to why the National Cathedral Project must be promptly mothballed, put on ice or halted in its tracks. The first of such cynical complaints is that our proposed National Cathedral is scheduled to be constructed during an exceptionally bad period in the history of our beloved nation, when the rate of unemployment is exceedingly and unacceptably high. Such critics easily and rather hypocritically and conveniently forget that the rate of unemployment in Ghana was even much higher and the Structural-Adjustment (SAP))-throttled economy much worse off than it is today, during the 1990s, when the Christian-Faith-Professing /Confessing President Jerry John Rawlings and his so-called National Democratic Congress regime flagitiously collaborated with the Muslim Government of Turkey to construct a National Mosque for the 17-percent Ghanaians of the Muslim faith in our country, to the total exclusion, tax-wise, and at the expense of the 75-percent of Ghana's 30 million people who profess the Christian faith.
But what I even more importantly and poignantly want to underscore is the fact that the proposed National Cathedral will be constructed by Human-Ghanaians from right here on Earth, not by the Angel Gabriel and his Celestial Crew or Associates from Heaven. What this means in simple and commonsensical terms is that both at the construction phase and its finished and functional or utilitarian phase, the National Cathedral will employ tens of hundreds of both construction workers as well as a diverse number of professionals of various specialties. And guess what? All these employees will be commensurately paid. I am also quite certain that we may even have a small well-equipped clinic on the campus of our National Cathedral and likely even a couple of hospital beds and well-trained nurses and crackerjack doctors on hand to boot. I also understand that a music school will be housed under the humongous tent-like roof of our National Cathedral. As well, there will be a couple of restaurants or fast-food joints to cater to the gustatory needs of visitors, tourists and worshippers alike.
Maybe the critic who bitterly complained about the acute shortage of hospital beds ought to have queried why in its waning days, the Mahama-led government of the National Democratic Congress imported about 200 lemon or engine-wrecked, for the most past, hulking minivans and total empty shells of vehicles in the name of the upgrading of Ghana's ambulance system. The fact of the matter is that unlike most of his predecessors, Nana Akufo-Addo has demonstrated himself to be a multitasking visionary leader who can pursue the foresighted and progressive policy initiative of providing our youths with a fee-free Senior High School education, irrespective of socioeconomic background, while at the same time effectively catering to the cultural, psychological and spiritual needs of his people. This is the kind of leader that Ghanaians have been desperately looking for all these umpteen years that they were saddled with lackluster and visionless leaders. President Akufo-Addo is the kind of leader we need to staunchly support and not recklessly and unwisely malign.
*Visit my blog at: kwameokoampaahoofe.wordpress.com Ghanaffairs
By Kwame Okoampa-Ahoofe, Jr., Ph.D.
English Department, SUNY-Nassau
Garden City, New York
August 31, 2018
E-mail: [email protected]