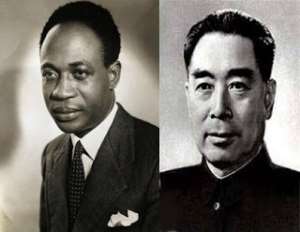 Kwame Nkrumah and Zhou Enlai
On the afternoon of February 24, 1966, at the Beijing Airport, was the Chinese Premier Zhou Enlai, standing in the cold wind, waiting for the Ghanaian leader and the father of African independence movement, Dr. Kwame Nkrumah.
Zhou Enlai has received many African leaders but Nkrumah's visit was a special one, the fact that he was the friendliest leader of China. The coup plotters waited for Nkrumah to leave before he was overthrown.
The coup had just happened a few hours ago, and the plane sent by China to pick him up was still in the sky, therefore Nkrumah knew nothing about it. Zhou Enlai not only wants to inform him of this bad news but worried also how to receive and handle this diplomatic problem.
When Nkrumah finally touched down in Beijing, Zhou Enlai routinely accompanied him to state Guesthouse. After the guests and the host sat down in the reception room, the Chinese leader gently told him that there is a coup in Ghana and handed the message from the foreign news agency.
According to the Chinese diplomats, Nkrumah did not accept this reality at first. When he read the telegraph, the hand trembled, but he was very calm. Then he mentioned the name of General Kotoka, without any knowledge that it was Akwesi Amankwaa Afrifa who masterminded the coup.
However, he also doubts whether the news was just a propaganda of the West in order to overthrow him.
When the rumors of the coup were confirmed, the huge delegation of 90 people who followed Nkrumah quickly fell apart, and no one was willing to organize and communicate with a government in exile.
Even the Ghana embassy in China also expressed its position to Western journalists and announced its allegiance to the new Ghanaian military government.
He sent the accompanying foreign ministers to attend the meeting of the Organization of African Unity in the Ethiopian capital and told the world that he is still the legitimate leader of Ghana.
However, Nkrumah had information that the coup was planned with the help of the CIA and he finally decides to leave the affairs of Ghana alone and concentrate on his future.
After the coup, Nkrumah stayed in Beijing for four days and Zhou Enlai treated him with courtesy, accommodating him at the Diaoyutai State Guesthouse.
In China, he received a message from his friend, the Guinean President Ahmed Sekou Touré. Sekou Touré assured him that he would not only welcome him but also willing to treat him as a head of state.
So on February 28, Nkrumah left Beijing for Guinea. He never returned to Ghana, until his death in 1972, while receiving treatment after an illness in Romania.