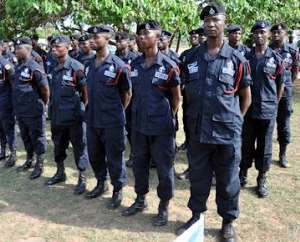 Tema, August 8, GNA - Deputy Commissioner of Police (DCOP) Nana Asomah Hinneh, Tema Regional Police Commander, has advised police personnel in the region to discharge their duties professional, and ethically to protect the image of the Service.
DCOP Hinneh said,' The Police are not in their good times and if we are not careful, we are going to lose the confidence of the masses'.
He gave the advice during the Ashaiman Divisional Police Command's 2017 annual West African Security Service Association (WASSA) Celebration.
DCOP Asomah said that the personnel who discharged their responsibilities professionally and in accordance to the country's laws would have the needed support from the Service.
He said professional conducts was a necessity especially in the wake of public criticisms due to some unacceptable behaviour among some Police personnel.
Assistant Commissioner of Police (ACP), Mr Peter Gyimah, in a welcome address, observed that there had been relative peace in the Ashaiman Municipality as the area did not record any violent crime in the year under review.
ACP Gyimah commended Police personnel in the Division for enforcing the laws and maintaining peace in the area in 2017 and the first half of this year urging them to continue the good work.
Nii Annang Adjor, the Chief of Ashaiman, and Mr Ernest Norgbey, Member of Parliament for Ashaiman, also commended the Police for the peace in the area and reiterated the need for professionalism among personnel.
Personnel of the Division dinned and danced their hearts out as they interacted with each other during the WASSA.
WASSA is a day set aside by security services to relax and interact under recreational conditions while taking stock of their performance during the year under review as well as plan for the coming year.