Between Mahama And Me, Spio, Not "Between Mahama And I"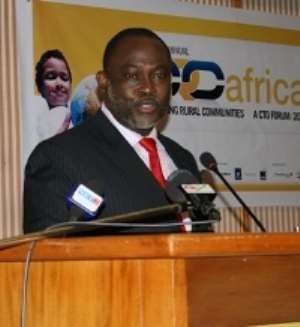 When I first saw the news headline that inspired this article, I thought it was a genuine editorial blooper or faux-pas. And then I read further and came to the sobering realization that, indeed, the much-touted communications specialist could take basic tutorials in English Grammar in any one of the fee-free Senior High Schools made readily accessible by the foresighted and progressive policy initiative of President Addo Dankwa Akufo-Addo, which Mr. EkwowSpio-Garbrah, among a host of other National Democratic Congress' stalwarts, vehemently protested as unsustainable (See "Don't Create Unnecessary Rift Between Mahama and I' Spio-Garbrah to NDC Members" (XYZ.com / Ghanaweb.com 5/16/18).
Maybe somebody with a far better and more professional appreciation for the English language – and here, Mr. AzindoMarzuq, I hope I have his name correctly spelt, readily comes to mind with his quite educative column series titled "The Language Agenda" – ought to instruct the former Rawlings' Education Minister and the Mahama Trade Minister of the fact that when a personal pronoun, such as "I," in the nominative or subjective form, comes after the preposition "between," the "I" takes the objective form of "Me." Thus, it is more grammatically sound and accurate to say "Between Mahama and Me," and not "Between Mahama and I."
The stark fact of the matter is that if you cannot express yourself effectively in our longstanding official language of English, chances are that you also cannot be a good or effective president or administrator of the Ghanaian people's business. As I perfectly understand it, absolutely nobody is trying to create any rift between former President John Dramani Mahama and Mr. Spio-Garbrah. In actuality, what we are witnessing in plain sight and in broad daylight are the old demons of the former Ambassador to the United States coming back to haunt him with a vengeance. The fact of the matter is that Mr. Spio-Garbrah is a pathologically divisive personality who thrives on furtively undermining the image and reputation of his rivals and competitors as a means of shoring up his own.
Ghanaians vividly and queasily witnessed this when the then-expatriate Mr. Spio-Garbrah, resident in London and working for the Commonwealth's Telecommunications Organization, mischievously capitalized on the displeasure and resentment that the Rawlingses had against then-President John Evans Atta-Mills to get the latter politically sidelined and prevented from successfully gunning for retention as the presidential nominee of the National Democratic Congress in the leadup to the 2012 general election. He would go on to snidely and disrespectfully call President Mills "damaged goods." And when the latter "mysteriously" passed on, Mr. Spio-Garbrah helicoptered himself to Kumasi, the Asante regional capital, and parachuted down into the middle of the Baba Yara Sports Stadium, I believe, where a delegates' congress of the party was in session to decide on the choice of a new leader, hoping that this patently absurdist display of buffoonish naivety would earn him the crown of the Undisputed Chieftain of the National Democratic Congress.
Maybe he anticipated a reprise of the infamous Swedru Declaration, in which Chairman Jerry John Rawlings emphatically stated, for the wistful benefit of the party's stalwarts, that it was Atta-Mills all the way and in perpetuity or the proverbial highway. Presently, it well appears that the one potential candidate who stands in the way of Mr. Spio-Garbrah and his party's nomination is former President John Dramani Mahama. And here, again, the Cape Coast native – or is it Elmina native? – has luridly resorted to his dirty old tricks all over again. This time, he has been reminding key party operatives and anybody else who cares to listen that when he was the substantive Minister of Communications under President Jerry John Rawlings, it was the former President Mahama who was his most devoted and obedient second-bananas or sidekick.
Now, I don't know just what the infamous "North Star" and "Spare-Tire Nationalist" thinks about such patent and demeaning electioneering-campaign abuse. But it is easy for any keen observer of the NDC's political culture to readily guess at the same. You see, the problem that Mr. Spio-Garbrah has in convincing both his party's kingmakers and the Ghanaian electorate at large is the fact that he is a diehard political opportunist and insider who has actively collaborated with all the other faux-socialist double-dipping salary thieves to thoroughly wreck the economic and sociocultural and technological development of the country.
Indeed, if he were a serious politician, Mr. Spio-Garbrah would rather be talking about any significant contributions that he has made towards the uplift or development of Ghana and its citizenry, beyond empty big titles and the fat virtual sinecures that he has earned in the process or performances of the same. You see, real politics is about nation building, not self-preening and vainglorious boastfulness. I thought Mr. Spio-Garbrah was old enough to have learned this a long time ago. How grossly wrong and mistaken I was!
*Visit my blog at: kwameokoampaahoofe.wordpress.com Ghanaffairs