My Reaction On Ghanaians' Behaviour Towards Ebony's Demise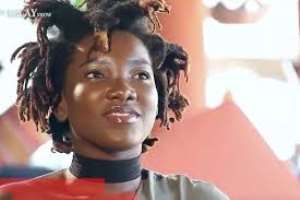 I have severally resisted the temptation to write on similar incidents on so many accounts, but it seems to be too much a time for me to remain silent on such happenings. My continuous silence on similar issues is detrimental to mother Ghana hence my decision to weave these words together to expose the rots that engulf this country, pertaining our behaviour towards some of these unfortunate incidents. But before I deeply nose-dive into the genesis and pathogenesis of the sad incident that engrossed Ghanaians, let me use this opportunity to unreservedly and unselectively express my condolences to the bereaved families of the trio whose demise hit the country in an indescribable manner. May the souls of the trio rest in perfect peace. Amen.
At dawn yesterday, (9th February 2018), Ghanaians woke up with * a very debilitating body* having listened to the excruciating news of the fatal accident that claimed the lives of three persons, one of which is a highly famous musician. Ebony, as she is popularly called, has been an award winner and a very discerning lady in the music industry. Her songs have always been cherished by the majority of Ghanaians. Her songs that are very educative, touch on the emotions of most Ghanaians. One of them which is about domestic violence and relationship, "Maame Hwe", happens to be the favourite of the former president, John Mahama.
The twenty years old highly talented Ebony, gained her immeasurable popularity through her sweet melodious voice that gives a multitude of Ghanaians emotional satisfaction anytime she demonstrates her God-given singing prowess in any new release. I am not surprised Ghanaians went into a nationwide mourning when her sudden demise was announced. What a great lost! In fact, the demise of this iconic figure in the music industry has undoubtedly marred the beauty of the debate of the president's state of the nation address. I must admit that I momentarily lost my sense of critical reasoning when I heard the news. Frankly speaking, I slept very late the previous night and you can guess what I was doing. I was actually going through both the previously and recently delivered state of the nation promises as described by the levelheaded minority leader, Hon. Haruna Iddrissu.
Having heard the sad news, I couldn't lace my well-chosen words together to carry home my take on the state of the nation address. I considered this piece urgent and very necessary, that is why I postponed my take on the state of the nation address. As I indicated in some of my published articles, I write to unearth odds of any kind, entertain, commend, constructively criticise and suggest solutions to some seeming challenges bedevilling our nation.
The subsequent paragraphs of this piece are power packed and properly laced with hard facts regarding what I usually deemed, "discrimination against the vulnerable and the less privileged". I am vindicated now. The recent accident has come to confirm what I have been thinking; "discrimination against the poor by the rich and the famous". It is indeed very sickening, the way most Ghanaians behave towards the less privileged. Don't get irritated yet, just follow as the issues unfold themselves.
The recent Ebony accident issue that has taken over the media outlets did not only involve Ebony but included other two human beings who are equally citizens of this country. But before I continue, let me make myself clear that I am not and will never rise against the celebration of any celebrity or any public figure. My only concern is that at least, some modicum of sympathy, empathy, care and love should also be shown to the less privileged in this country. Indeed, all of us cannot be the same, and nobody is oblivious of that. God has given every single individual different talents, skills and potential, so we must value everybody in spite of their status in society. In my earlier rendition, I referred to this act as "discrimination against the less privileged".
Since yesterday, I carefully and painstakingly monitored comments on an appreciable number of media outlets just to satisfy my curiosity as well as validate or invalidate my assertion stated above. To my dismay, my assertion was affirmed. In all sincerity, I was terrifically flabbergasted when comments and condolences from the length and breadth of the country were all directed to Ebony, absolutely forgetting the other two corpses, one of which was even a military man and Franky Kuri's, profession unknown. Ghanaians were consoling Ebony's family, advertently neglecting the other two families. Godly speaking, I have nothing against Ebony or any celebrity apart from their nudity. The reality is that the way Ghanaians belittled the military man and the other lady, Franky Kuri, involved in the same accident with Ebony represent everything objectionable in a country that is known to be so much enthused and engrossed in its religious practices. This behaviour belies the word of God we invariably listen to. Does that not amount to double standard? Hypocrisy at its crescendo!
In fact, I must commend one person who at least recognized that two human beings equally died in the same accident with Ebony. This person happens to be the man of God who recently had an encounter with Ebony before her sudden demise. Granting interview to Tv3, Rev. Dr. Lawrance Tetteh advised Ghanaians to also remember that Ebony wasn't the only person who died in the accident but two other persons equally perished in that accident. He called on Ghanaians to equally show some kind of concern and empathize with the families of the military man and the other lady, Franky Kuri, who also died.
It was more astonishing and shocking when I read messages from the Facebook walls of the current president, Nana Addo as well as the former president, JM. None of them acknowledged the death of the military man and the other lady.
For evidentiary purpose, president Nana Addo wrote on his Facebook wall, "saddened by the news of the death of the young, but extremely talented female artiste, Priscilla Opoku-Kwarteng, aka Ebony Reigns". Former president, John Mahama also wrote, "RIP #Ebony. A talented life cut short. My favourite track on domestic violence and relationships, "Maame Hwe".
This is notably a very bad example demonstrated by the people we entrusted our hopes in. This behaviour must be condemned in no uncertain terms. For far too long, Ghanaians have allowed this uncharitable element of discrimination to eat up the better portion of our humility. I must admit that I was indeed sad, petrified and confounded to have read such discriminatory posts from our leaders. I was wondering how the families of the other two corpses were feeling. How will they mourn their corpses? Hmmmm may God grant you hearts large enough to contain all these pains.
It is apparently clear that commonsense and love have been raped off in our daily activities by fame and wealth. Most of the people in this country are only pretending to have concern for the less privileged. But what I want to put across is that I may accept a limitation on my actions but never, under no circumstances, must I accept restriction on my thinking. I will never normalize or moralize the odd because there is no moral equivalence between them.
Of course, you have every right to disagree with me but the reality is that this discrimination has happened in this country not only today. If you forget, let me remind you of similar happenings. I owe you an apology if I'm causing any pains to you by reminding you of these incidents.
Last year, hell got broken when Major Mahama was killed in mob injustice. Of course, that was condemned in no uncertain terms, but the question is, was that the first time mob injustice happened? Absolutely no! Does that mean all those who suffered similar way were not human beings? Moving forward, we have all witnessed the attack on citizens by Fulani herdsmen across the country.
Very little was done about herdsmen attacks on farmers at Agogo until three policemen were shot dead in the same place by the Fulani herdsmen this year before government and stakeholders saw the need to take serious actions against them. What a country we live in! In similar vain, a member of parliament was murdered in his house and it was like that was the first of its kind.
This discrimination and selectivity must stop. Anyway, it is not surprising because Oswell said it his famous political book titled Animal Farm that "all animals are equal but some are more equal than others".
No wonder every young person wants to get rich quick. A country where materialism becomes the new religion and money the new God should expect nothing than what is currently happening. I now see why the unending social vices continue to escalate. The stealing, armed robbery, fraud, galamsey, inter alia are on the ascendency because Ghanaians give unmerited respect and value to the rich and the famous without questioning their source of success. Who doesn't want to be respected and valued?
Those who are supposed to care and love unconditionally though (our leaders) are also in the same shoes with the ordinary people. So, this thought has been the very foundation for so many vices and evil acts in this country. This means that no one is exempted when it comes to the causes of social vices and indiscipline in this country.
In conclusion, we all have a sacrosanct responsibility to transforming Ghana into the country we all want Her to be. The front liners must undo the spirit of discrimination and selectivity in attending to the plight of the people whose interest they claim to be serving. In fact, this attitude is so glaring in the actions and inactions of Ghanaians, including our leaders. Let me also use this opportunity to plead with Ghanaians to desist from sharing pictures of the accident, for it intensifies the pains of the victims' relatives and lovers.