Akufo-Addo Reminded Of His Campaign Pledges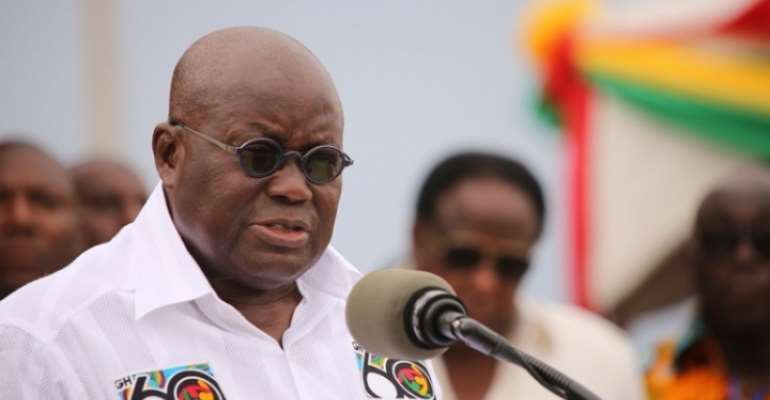 A traditional ruler has reminded President Nana Addo Dankwa Akufo-Addo on the need for his government to fulfil the 2016 campaign pledge of building mental health hospitals in the middle and Northern parts of the country.
Nana Bosoma Asor Nkrawiri II, the Paramount Chief of Sunyani Traditional Area said he believed the President's promise was not a mere political rhetoric or gimmick, but he would do so for the benefit of the mentally challenged.
In a speech read for him at a workshop to sensitise some traditional rulers on the Mental Health Act, 2012 (Act 846) in Sunyani, Nana Nkrawiri said the establishment of the hospitals were important since the facilities would place priority on mental health care service delivery.
The mental health facilities would also enable people with mental illnesses to access quality healthcare delivery, he said.
MIHOSO International in collaboration with BasicNeeds Ghana, NGOs with support from the DFID organised the workshop in Sunyani, which was attended by 30 chiefs and queens in the Brong-Ahafo Region, selected from Sunyani, Odumase Number One and Awuah Odumase Traditional Areas.
Nana Nkrawiri condemned persistent public stigmatisation and discrimination of people with mental illnesses saying such acts were inhumane and uncivilized.
He pledged the readiness of his traditional council to support the dissemination of the Mental Health Act and asked other traditional councils in the region to do so in helping to alleviate the plight of the mentally challenged.
Dr Gabriel Gbiel Benarkuu, the Chief Executive Officer of MIHOSO, noted that without the support of the chiefs and queens it would be difficult to identify parents who hide their children with mental disorders in homes.
He said if traditional rulers understood and were acquainted with provisions in the Act 846, they would be in a better position to sensitise their people on human rights abuses meted out to the mentally challenged.
Mr Joseph Yere, the Brong-Ahafo Mental Health Coordinator, commended MIHOSO and its partners for their tremendous support in helping the mentally challenged to access medical care adding that mental health care was a huge societal problem that required concerted efforts to tackle.
He appealed to families to support people with mental illnesses to seek medication and urging them to avoid hiding such children in homes and prayer camps.