Two Communities Benefit From Health Screening Projects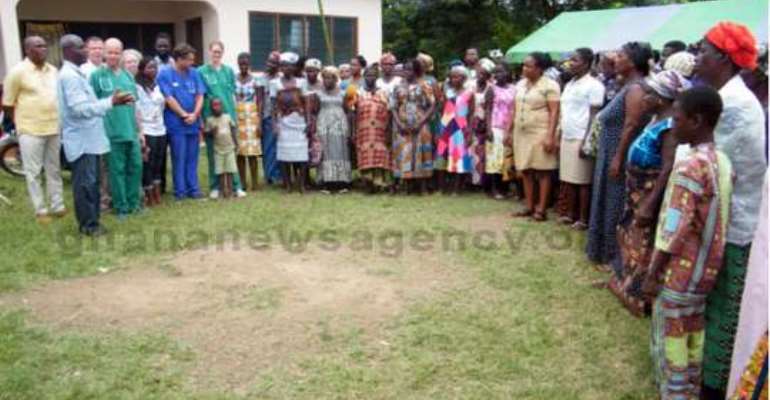 Agona Otsenkrong (C/R) Oct. 3, GNA - A total of 1,500 in two communities in the Agona West District have been screened for various medical conditions and treated accordingly, in a five-day exercise.
The Give and Eat Ghana, a Non Governmental Organisation, organised the free screening, which benefited residents in Agona Nkum and Otsenkrong Communities.
The Reverend Dr. Kingsley Arthur, a native of Agona Nkum, currently based in Berlin - Germany, who is the Chief Executive of the NGO, engaged a 21-member medical team from Berlin, to undertake the exercise.
The common conditions diagnosed were malaria, chest and waist pains, high blood pressure, hernia, diabetes, sleeping disorders, malnutrition in children, anemia, dental and eye problems.
In an interview with the Ghana News Agency, at Agona Nkum, Rev Dr Arthur said the event formed part of activities they were undertaking towards making life meaningfully for people, especially, widows, school children, orphans and the other less privileged.
Rev Dr Arthur said the organisation was established seven years ago, during which it had given scholarships to more than 200 brilliant but needy students in the area.
It had also been providing free food for pupils and students of the Nkum Catholic Primary and Junior High School, twice every week.
Additionally, it had improved and expanded the School's kitchen, constructed a toilet facility for the School and cultivated a farm of more than acres, which was managed by some youth whom they have engaged.
Some of the farm's produce, he said, were sent to the School for the free food programme, while the rest were sold to support other areas they needed to attend to.
Dr. Tobias Sclunabel, the leader of the medical doctors who catered for the people at Agona Otsentrong CHPS Compound, where the exercise was carried, said it was very challenging seeing the people suffering, while they could not afford their medications.
He said they referred diseases, which needed surgical attention and continuous treatment to the relevant Hospitals, saying the NGO would bear the cost.
He advised the public against taking foods with too much sugar content; but to do regular physical exercises, go to health facilities for checkups at least every three month, drink enough water, reduce the intake of alcohol and also adhere to the advice given them by health practitioners.
The Local Project Coordinator, Mr. Richard Abbam, on behalf of people, expressed their appreciation to Give and Eat, and described the support they were offering 'as laudable'.
He assured the leadership of the NGO of their continuous support towards the sustainability and expansion of the programmes to improve their wellbeing.