Airtel, Glo & Kasapa Given Ultimatum To Extend Coverage To Adaklu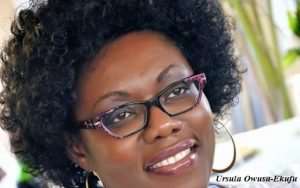 By Maxwell Ofori, Parliament House
Three telecommunication companies, namely Airtel, Glo and Kasapa, have been given six months ultimatum to extend their telecommunication services to deprived communities such as Adaklu in the Volta Region.
The timeline followed concerns for better and proper telecommunication services across the country, a policy the Akufo-Addo government intends to champion.
Speaking to The Chronicle in Parliament yesterday, on what punitive actions could be taken against defaulters, the Communications Minister, who is the Member of Parliament (MP) for Ablekuma West, Mrs. Ursula Owusu Ekufful, said she was not the one to determine.
However, she swiftly added that action would be taken against them "if they do not extend service to Adaklu and its environs within the six months' period."
During proceedings in the chamber earlier, Mr Kwame Governs Agbodza, MP for Adaklu, sought to know from the Minister steps her Ministry had taken to improve telecommunication connectivity in less-privileged communities, including Adaklu.
In her response, the Minister indicated that it was the government's policy and desire to expand access to telecommunication services to all parts of the country, and that it was making efforts, in collaboration with the telecom companies, to provide coverage.
"This government intends to promote digital inclusion, and will work assiduously to achieve that objective within the shortest possible time.
"Mr. Speaker, a number of measures have been put in place to facilitate wider coverage to improve telecommunication connectivity in underserved and un-served communities such as Adaklu," she stated.
According to her, existing regulations enjoined all the mobile network operators to achieve nationwide coverage, with respect to their license obligations (2G), and also cover all district capitals as part of their 3G license obligations.
"Mr. Speaker, three out of six mobile network service providers operating in Ghana have full 2G and 3G services in Adaklu. The other three service providers, namely Airtel, Glo and Kasapa, have been directed by the National Communications Authority to provide coverage at Adaklu and its surrounding environs within six months, or be sanctioned."
She said the directive would enable the entire country to be connected, so as to help people gain easy access to telecommunication services, especially, internet access. The Ministry is working closely with the NCA to ensure that their oversight responsibility of the mobile network operators, in terms of quality and service and coverage obligations, is intensified.
Adaklu District is one of the young districts created in 2012 with severe developmental challenges. The deployment of modern communications infrastructure is necessary to mitigate the handicaps of development, and to also unleash the enabling capabilities of ICT, the Minister remarked.