Why Bawumia Is A Liar, A Stooge And A Disgrace To Muslims And Northerners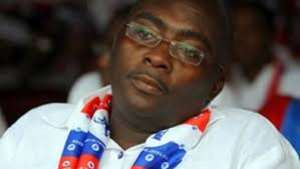 Dr Mahamudu Bawumia
Will falsehoods and intellectual deceit ever exonerate Dr. Mahamadu Bawumia from his present state of hallucination? Or is it that Dr. Bawumia is simple suffering from phobia?
I was astonished when I heard Dr. Bawumia asking the good Muslims of Ghana and the respectable people of the Northern Region to vote for him and Akuffo-Addo, the twice failed team.
According to Dr. Bawumia, the John Mahama led National Democratic Congress (NDC) has done nothing for the Northern region to deserve their vote. Really? Allah have mercy on competent liar.
The Northerners can see and feel the positive transformation that President Mahama's government is offering them. Space will not allow me if I had to mention the developmental projects that the Region is experiencing under President John Mahama which stretches from Infrastructural developments through social interventions, all the way to basic amenities for survival, deepening of FCUBE that is entrenched in our constitution down the road to human development in the northern Region. The people can see.
What kind of Muslim at all is Dr. Bawumia? Is it to follow Akuffo-Addo to move from Mosque to shrine and to Church, even though he keep falling, makes Dr. Bawumia a good Muslim?
Going to shrine and Church for prayers, divine mercies and whatever other reasons know to Dr. Bawumia, has compromise his faith and ridicule Islamic religion.
In case Dr. Mahamadu Bawumia has forgotten, let me refresh his memories. Who in Ghana hates Muslims and Northerners than Akuffo-Addo, his late father- Edward Akuffo-Addo and the New Patriotic Party (NPP)? Action speaks louder than words.
In 1969 when Edward Akuffo-Addo was ceremonial Head of government of Ghana under Dr. Busia, he (Akuffo-Addo's father) drove away Muslims from Ghana by enacting obnoxious legislation, Alien compliance act.
I might not have a vivid detail about the havoc that Alien Compliance Act has cause targeted Muslims in the entire Country, but Lagos Town, now called Accra Newtown where I have lived Many years, I cannot be mistaken. Muslims who lived in Accra Newtown, Malammata, Maamobi and Nima at the time had to run away and leave their houses behind for strangers to take ownership.
It has also gone in to the history books that the only African government that have sacked its Citizens from their territory is Ghana and this bad precedence happened under the stewardship of Edward Akuffo-Addo.
The strangle of a man started from birth, so, Akuffo-Addo's hatred for Muslims and Northerners begin from his birth.
When NDC under J.J Rawlings commissioned the National office of the Chief Imam, Akuffo-Addo and the NPP kicked against it. And also insulted J.J Rawlings and the NDC for recognizing Muslims when the NDC makes the two Muslims festive a National holiday.
Akuffo-Addo as Attorney General jailed Malam Issah even though former President Kuffour told him not to.
When NPP was in power, they collaborated with the police through diabolic means and had Issah Mobila-the Northern Regional GPRTU boss annihilated.
I will not like to open the late Yana Adani's file under NPP regime. It was one clear case to reminds everyone about how NPP had failed the northern region in this regard.
Akuffo-Addo, Dr. Mahamadu Bawumia and the NPP has no Aorta of love for Muslims and Northerners. Where was Dr. Bawumia when Akuff-Addo's actions and inactions cause the death of their party North Eastern Regional Chairman, Adams Mahama, Abubakar Siddique and others. Dr. Bawumia was quiet and out of coverage area.
Chairman Paul Afoko a Northerner who Akuffo-Addo openly rejected worked against him and had him unconstitutionally removed from office.
Where was Dr.Bawumia when his party high rank member publicly told the northerners that they drink with Animals.
Dr. Bawumia should be telling the Muslims and the Northerners how their illustrious son, the late Aliu Mahama, Ex-Vice President of J.A. Kuffuor was ridiculed in the NPP by party members.
If Dr. Bawumia have Muslims and the Northerners at heart, why was he quite when their party Chairman Mr. Paul Afoko a Northerner, was unconstitutionally removed from office?
Why did Dr. Bawumia turned a deaf ear to the Northern wig NPP members petition asking him to take a stand on Mr. Paul Afoko's removal case. It's only a stooge that will remain quiet in their comfort zone when party elected officials are wrongfully removed from office, when party members are stabbed to death, beaten and some receiving acid bath.
In fact, Dr. Bawumia had not told the Northerners how the NPP will heal the wounds of the families of Yana Andani and the families of 40 other northern Muslim who lost their lives with Yana under the NPP.
Whatever will come out of this day's political bigotry, Machiavillainism and lies propagated by Dr. Bawumia and cohort, the purgatory and disappointment caused rest in the heavy shoulders of our Muslims and the Northern brothers and sisters.
Long live our Muslim Brothers and sisters, long live our Northerners. Eye zu……..