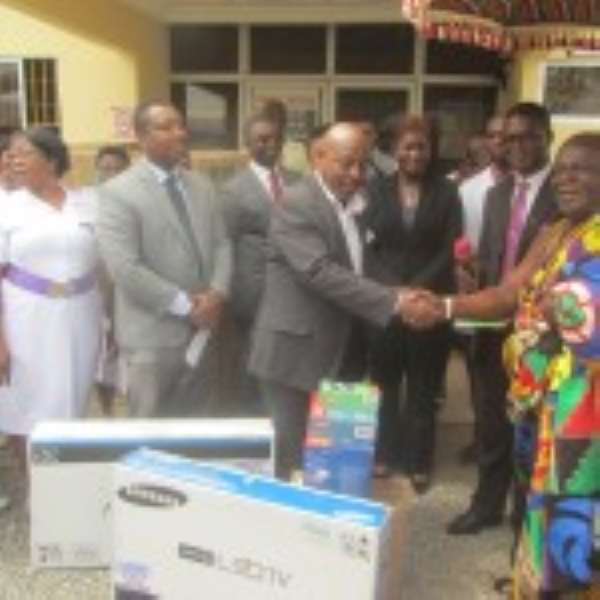 Rudolf Francis Hans-Jorie presenting the items to Nii Adjei Kraku and Dr John Yabani
TEMA GENERAL Hospital is now too small to cope with the growing population and pressure on beds which have reached crisis point, Dr John Yabani, metropolitan director of Ghana Health Services (GHS), has disclosed.
According to him, a proper hospital needs to be built in Tema within the shortest possible time, adding, "In fact, the greatest challenge we are facing now is overcrowding, especially in the maternity unit and we are looking at expanding. It will be easy for us to get more patients and handle them with the quality they deserve if we have enough space."
Dr Yabani made this known when he received some medical supplies amounting to $48,000 from City 2000 Youth Action (C2YA) International, a Ghana-based non-governmental organisation, on behalf of the Tema General Hospital last week.
Four suction machines, two infusion pumps,  two cardiac monitors, nine pulse dosimeters, seven sonic aids, patient screens, patient trolleys,  sphy manometers, resuscitator, cardiocogram, spot light, nebuliser, autoclave, among other medical materials, were funded by Ghana International Bank, (GIB), a Ghanaian bank based in United Kingdom.
The equipment were imported by Reha-Medical Supplies Ghana Limited at their personal cost, as they are also to install and commission it.
The Tema metro health director further called on government and other corporate organisations to come to the aid of the hospital to help reduce pressure on the maternity ward in order help boost maternal care.
.
He seized the opportunity to thank C2YA International, Ghana International Bank and other institutions that played various roles in donating the equipment.
Presenting the items, Rudolf Francis Hans-Jorie, president of C2YA International, said they were touched by the appeal made by the hospital for assistance as a result of the poor state of the health facility, hence their decision to support.
According to him, "Many of us do not realise that the labour ward which serves as the arrival hall to the earth should be equipped to make it the safest and most comfortable place in the hospital. Mothers going through labour and childbirth experience stress and physical pain, hence, our hospitals must provide an environment which allows them to go through childbirth with dignity by providing adequate and relevant medical equipment that allow women in labour to deliver without losing both the mother and child."
He was optimistic that the medical support will further equip the hospital with more resources to save more lives.
Mr Hans-Jorie pointed out that C2YA International is committed to sharing its resources and experiences with other donors in strengthening the medical capabilities of hospitals in Ghana through its flagship project dubbed  'Communities Engagement In Development Initiative' (CEDI), aimed at mobilising domestic resources for development.
He promised more supports to public health facilities in the country to enable them to provide quality healthcare.
For his part, Nii Adjei Kraku I, Tema Mantse, took the opportunity to appeal to government to give Tema a new hospital in order to meet its growing health needs.
From Vincent Kubi, Tema