September 11, 2014
|
Feature Article
Azizur Rahman Aziz, a Living Poet in the City: Dhaka Metro in Bangladesh Republic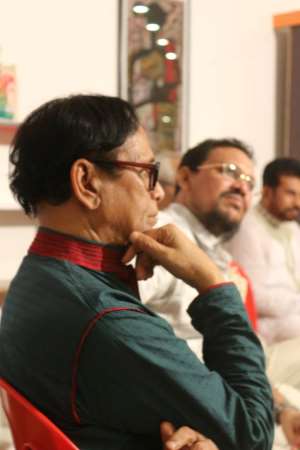 This presents moment of 2014 and the near future & near past are defined as the vacuum period of the Bengali literature by many scholars, professors and literature readers in Bangladesh. In the recent, most of notable literature laureates have passed away. Poet Shamsur Rahman, Novelist Humayan Ahmed, writer Humayan Azad and etc are most said name in this line of modern bengali literature. Another living poet is Al Mahmud also no longer involved with writing due to his higher ages and illness.
In the vacuum period of Bengali literature, we found and has known about another poet who's extra ordinary writing may give us hope and a future prosperity in the Bengali literature.
His name Azizur Rahman Aziz, entitled as Living Poet in the City!
Azizur Rahman Aziz has lot of publication of poetry books, novels, story compacts, drama & plays. He is also lyricist and composer. Presently he holds the position of Chairman of Bangladesh National Museum Trustee Board.
Azizur Rahman Aziz was born in January 10, 1944 to father Abdul Mannan and mother Shirin Jahan in the Madaripur district in Bangladesh.
His notable publications and works are as bellow;
Poetry books:
Bishannya Shanglap (1982), Tabuo-Bache Acchi (1991), Nerantar Antare (1986), Beroti Hin Orchid (1982), Tomake ghere (1976), Head liner Shangbad (1990), Akhon Karo Na karo kechu Bala uchit (1996), Tomakay To Kichu Boli Nee (1998), Ananta Nagore Jabo (1998), Aie Prem Ananta Beraha (in 3 vols, Love Poems) Hrydaye-k-kari-khanda khanda, Bristi Jale Hrydae-Samuddur. Nirjan Nijjhum Shanday, Takhan Rat Akhon Adar, Megher Gore Bosot Bari (2014) and Projonmer Podaboli (2014).
Novels:
Binastay Pren (1987), Sattaya Sundar Ananda (1992), Madhuri Abong and Annanya (1993), Karagar Karabash (1992), Anno Projapati (1993), Shudurer Rang Dhanu (1987), Dur Theke Dure (1986), Anita (1994), Bepannay Bashor, (1994), Ahato Prem (1995), Kalo Jadi Manda Tabe (1995), Jakhan Andamane (1997), Maddhaya Rater Shanglap (1998), Patherer Kanna (1998), Chandan Kather Seri, Asru-Jalay, Basantta Kade (2000), Jeban-o-Hrydaye kabba (2007), Deyal (2008), Sahar Talir kabba (2008), Nishi (2013) and more.
Stories:
Aranney Pap (1983)
Child Literature:
Darbesh Pakhi, Asho Swadhinater Golpaya Boli. Achin Des-Er-Achin Katha, Parir Rajjay korlo Jara Joy, Mitha Rajar Deshe, Kono Ek Raj Konnar Kotha,
Short Films:
Jaler Meye (Following a story on Jalmahal) by University Films Ltd. (1992).
Full Length Films:
Prem Shudhu Prem (Following the novel styled "Annyo Projapati") by University Films Ltd.
TV Drams:
Jibon Jiboner Jannaya, Madhuri Abong Annaya (Package).
Serial Drama (Radio):
Jiboner Anginae based on family welfare.
Serial Drama (BTV):
Shukher Thikana based on primary health care, behavioral science, food security and nutrition.
Azizur Rahman Aziz started academic life in Kalamridha G O High School from where he completed matriculation degree and finished his Intermediate from Rajendra College, Faridpur. Later he studies and graduated from Nazimuddin College and earned Master of Arts in Bengali Language & Literature from Dhaka University. After few years later he has gone to United Kingdom and admitted to Queen Victoria University of Manchester.
During his professional service life he visited more than 20 countries around the world and received about 12 awards such as; Bronze Medal by Sanirvar Prokalpa, Gold Medal by oluntary mass participation as organizer, ABL (Intl Distinguished Leadership) Award.
Renaissance Shangskritic Sangsatha Award by Jessore(Dhaka based), Tri-taranga Sahitta Padak Chittagong, Micheal Madhusudhan Award Dhaka, Rishija Literacy Award Dhaka, Palak Literacy Award Dhaka, Kala Dhani Literacy Award Dhaka, Sher-E-Bangla Sahitta Padak Dhaka, United Kingdom Cambridge based Bibliographic Centre, `Man of the Year' Award 1998 and etc.
Azizur Rahman Aziz said; I never thought I would become a popular poet and writer that people of the country will know and respect with thy name. I have been writing for myself to express my thinking and inner being. I write from my metal stress and the expressions make me more fit to be happy.
His every book was published regularly since his writing was started but he did not attended public audience or commercial publication. His books and poetry has been receiving by his colleagues, his students, his fellows and others readers surround him. Still now his every moment is involved with writing.
Azizur Rahman Aziz is a Living Poet in the City. He was founding Chief Information Commissioner (state minister equivalent rank), was former Governor of the Board of Governor of Islamic foundation Bangladesh. He is also friend of Bangladesh's current Premier Sheikh Hasina.
Most of his readers want his poetry and story may enclose into the academic text books of high school and college level. His extra ordinary work in writing may sustain in the Bengali literature for long time.
I introduced with him in 2010 when my brother Kamruzzaman Palash brought me into Environment Council Bangladesh wherever Azizur Rahman Aziz is also Chairman of the organization. My brother Kamruzzaman Palash who is former United Nations Development Program (UNDP) employee, also worked for Environment council Bangladesh, a national level NGO. Few days later I joined to the organization as Program Officer, I found the poet in this office that most of the days of the week he attended in the NGO office.
In that times I also started writing column in the Modern Ghana news media and American Chronicle News family that the family was published 23 larger news portals from United States. When I wrote column in American Chronicle, it would publish in the 23 nos portal at a time but now it became shut down.
One day Editor of Modern Ghana namely Kwame Owusu informed me by email that I may play role as Operation Manager and South Asian Representative of the Modern Ghana that the Modern Ghana Media group is also a strong and large news group in the Africa territory and it is our hope that Modern Ghana will be a Africa based familiar news agency in the world.
After few months later of joining in the NGO, I left Environment Council Bangladesh and knew poet Aziz regularly attending to Bangladesh National Museum Office, he is Chairman of the government body. I visited his museum office and met here with Ahmed Towfiq, who is publisher of an online based Bengali newsportal namely, Somoyer Konthosor and poet Aziz is the chief patron of the new portal. I was started writing in the news portal as Science and Literature Editor and had opportunity to know more details about Azizur Rahman Aziz that just have knew he is a silent poet but a living poet in the city life.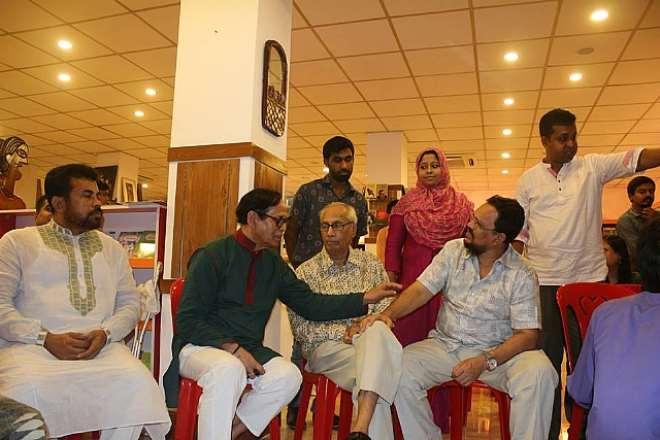 Image from right: Saif Rahman the CEO & Founder of D5Creation.com, Columnist Muhammad Waliwllah the Professor of Rajshahi University, Zerin Farjana the Editor of Somoyer Konthosor, Aminul Islam Bedu the Journalist of Bangladesh Sangbad Sangstha, Hasanuzzaman, Azizur Rahman Aziz, and rest one is Advisor of Somoyer Konthosor. © SomoyerKonthosor.com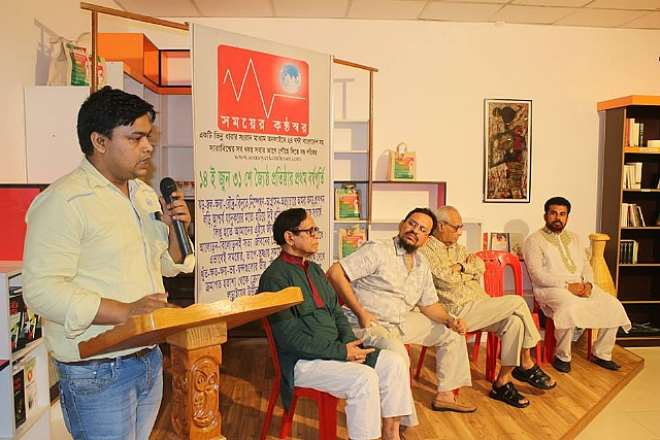 Image: Mr. Ahmed Towfiq the Publisher of Somoyer Konthosor is speaking. © SomoyerKonthosor.com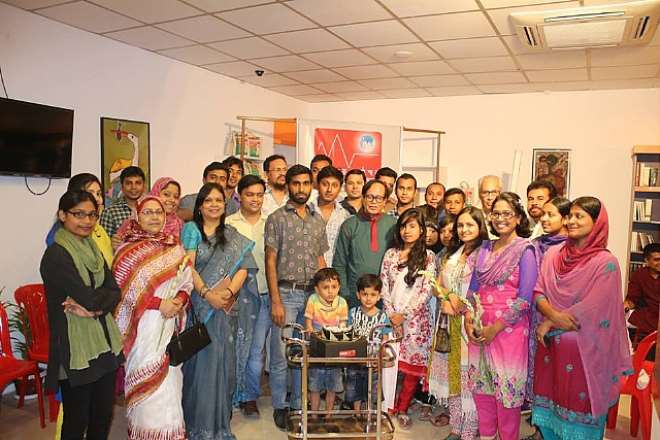 Image: Poet Azizur Rahman Aziz and his colleagues, well-wisher and team. © SomoyerKonthosor.com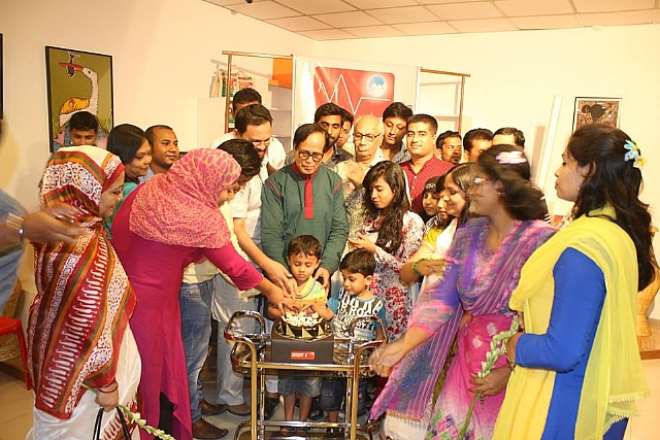 Image: Team Aziz gathered in the Pathok Somabesh Center at Shahabag in Dhaka Metropolitan City. © SomoyerKonthosor.com