8 May 2014
|
Health
Mobile Clinic For Asakrabreman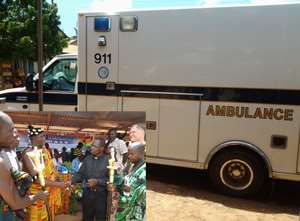 The mobile clinic van, INSET Fr. Henry Ussher (2nd right) presenting the keys of the ambulance to Nana Gyamfi II
Health delivery within Asankrabreman and its environs in the Wassa Amenfi West District of the Western Region has been given a boost as a mobile clinic has been donated to the farming community to help combat epidemics and other diseases in the remote area.
The van, donated by Good Health Messengers, a non-governmental organisation (NGO) would not only help the people in the district to access health care at their doorsteps but also enable health assistants to gain more experience during their training.
According to the donor, the mobile clinic has in-built medical facilities to help cater for the health needs of the people.
According to the District Director of Health Services, Emmanuel Yaw Affelkum, the van had come as a big relief to the people because it would reduce the difficulties in referring patients, especially women in labour, to the referral centres.
He pointed out that the ambulance or the mobile clinic would be used for medical outreach services in remote and deprived communities in the district where there were no health facilities.
He therefore appealed to the government help to develop the roads in the district to save the vehicle from accidents and breakdowns, and also facilitate the socio-economic activities of the people.
At a grand durbar of the chiefs and people of Asankrabreman last Sunday to hand over the van to the community, Fr Henry Ussher, a USA-based Ghanaian Catholic Bishop, and a native of the area thanked the people for their support.
Mr Ussher, who is also the co-founder of the NGO explained that his organisation was to help provide holistic healing through medication, education and prayers.
He disclosed that his outfit in collaboration with Project Cure, an NGO in the USA and the University of Science and Technology in Missouri, USA, would extend the mobile clinic project to other communities in the Sefwi area of the region.
'The mobile health clinic is an on-going project and would be expanded to other areas in the region in the near future,' he added.
Daniel Oerther, a professor at the Missouri University of Science and Technology assured that all the facilities and the other medical equipment needed by the various health facilities in the district which were made known during the evaluation exercise, would be provided.
Nana Amoanu Gyamfi II, Chief of Asankrakwabeng who chaired the ceremony thanked Mr Ussher and the US team for the partnership as it would enhance service delivery in the health sector.
From Emmanuel Opoku, Asankragwaa