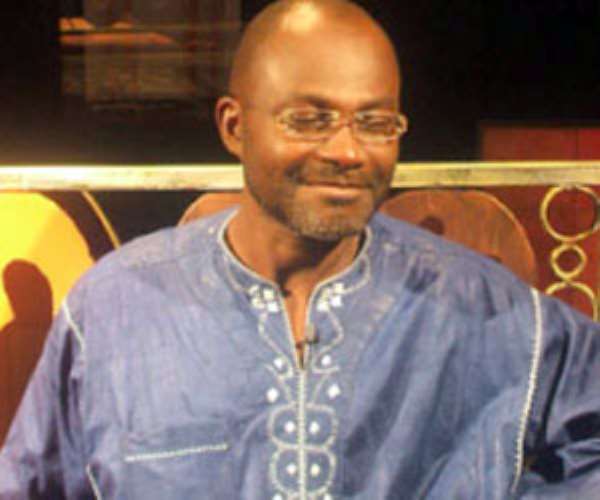 Kennedy Agyapong
Ghana is lucky to be 'blessed' with so many roaming political cowards who always spew fire and brainstorm at every given turn, but quietly leave the scene when they sense looming danger, and only return when they see that the political climate is all clear and bright.
When we talk about such political cowards, you do not have to look very far because chances are that Kennedy Agyapong, MP for Assin North Constituency will be standing just right by your side.
Kennedy Agyepong spewed so much tribal hate-filled comments in the run up to the 2012 Elections that it even landed him in cells at the BNI. It did not stop there, but this political coward was eventually booked for court. Even though the court eventually allowed him to walk a free man, Ghanaians will never forget this so-called lawmaker, Kennedy Agyapong, who called on Ashantis to turn their machetes and other dangerous implements on Gas and Ewes for no apparent reason.
But unbeknown to Ghanaians, days before the first vote was cast in the 2012 Elections, Kennedy Agyapong, who was running for re-election as a member of parliament sneaked out of Ghana. Kennedy Agyapong told close friends that he was leaving town as a precautionary measure since he could not predict how the political atmosphere was going to be after the results have been declared.
Kennedy Agyapong urged Ashantis to butcher Gas and Ewes but because he had the means he left town; therefore had his dangerous and stupid comments been heeded to by Ashantis, Kennedy Agyapong will not have been around to witness the carnage from his dangerous utterances.
This dangerous man, Kennedy Agyapong, who belongs to a dangerous party full of dangerous men and women only returned to Ghana when the heat about filling a petition to challenge the 2012 Election results was gathering storm.
But since cowards are known to die many times before they actually kick the bucket, Kennedy Agyapong is back to his old tricks and ways. Kennedy Agyapong is known as one of the NPP talking diarrheal who heaped insults on everyone until the Supreme Court (SC) Justices issued the final touchline warning on people who make contemptuous statements concerning the petition case.
Kennedy Agyapong then used the final touchline by the SC as pretence and went underground. But Agyapong even went further by sneaking town days before the determination of the case by the SC. Ladies and gentlemen coward Kennedy Agyapong who perhaps thought that Ghana was going to burn after the verdict was not in Ghana when the SC gave the verdict.
But have you seen that coward Kennedy Agyapong is back in the news this week? These are cowards who always cause trouble but hide under their beds when those troubles that they cause lead to potential dangers.
Kennedy Agyapong is back in full force but thank God this unrepentant coward is unleashing his salvos on his own NPP by saying that if there is any political party that urgently needs operation to survive then it is his own NPP.
He went on to say that the NPP is sick and that calls by some supporters of Akufo-Addo to run unopposed in 2016 makes him sick.
I will end by saying that if you ever hear Kennedy Agyapong making fire and brainstorm comments which can lead to divisive and chaotic tendencies please do not pay attention because this coward will always find a way to sneak out of town when he senses potential danger ahead.
Editor's Note: