The SC Verdict Which Deflated Akufo-Addo: One Year On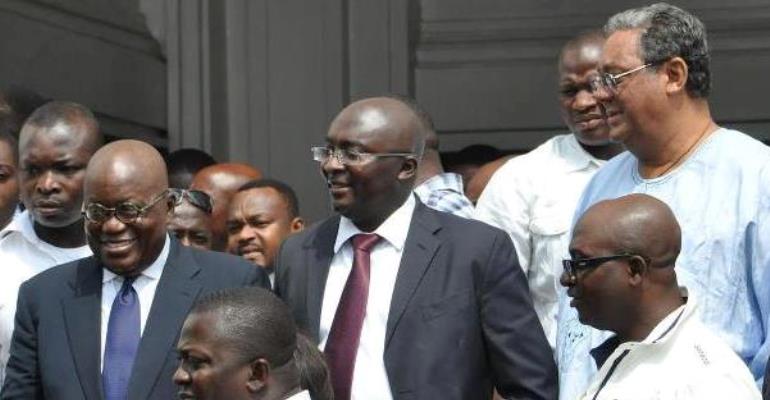 Today Friday August 29, marks exactly a year ago when Nana Addo Dankwa Akufo-Addo, the sorest loser in any presidential elections ever conducted in Ghana, was sent packing by the Supreme Court justices who dismissed his election petition. The President of the bench, Justice William Atuguba declared to millions of anxious Ghanaians and the International Community that, "in the circumstances, the overall effect is that the first respondent was validly elected and the petition is therefore dismissed."
That sentence from Justice Atuguba was all that mattered. Suddenly, the country exploded with joy when members and supporters of the National Democratic Congress (NDC) including the Presidency expressed their happiness at the verdict. On the other side of the isle were gloom, disillusionment, shame andanger. You can add the rest and everybody will agree with you.
Nana Addo Dankwa Akufo-Addo, the 2012 defeated presidential candidate of the New Patriotic Party (NPP), woke up during the wee hours of Thursday August 29, 2013, falsely dreaming, thinking aloud, pinching himself, perhaps smiling to himself and pacing up and down the corridors of his house at Nima in Accra, that he was going to be crowned the President-Elect of Mother Ghana by the Supreme Court justices of the land before 12 noon of that day.
It was therefore no wonder when Akufo-Addo zoomed to the premises of Supreme Court in a convoy of more than 30 Sports Utility Vehicles bubbling with confidence and believing that Ghanaians were going to address him as Mr President on that day.He had no room to think otherwise, therefore, he did not know what was in store for him.
The eight (8) long month suspense and waiting period that Akufo-Addo had subjected the whole country to finally came to a crushing end on that day when he was told in the face by the justices that, "sorry, you did not win the election."
December 7, 2012 will never be forgotten by people who really care about Mother Ghana. The elections were conducted in a free and fair atmosphere. In fact, the international observers who were in Ghana to spot the flow of the elections confirmed that it was by far the best elections ever conducted in Ghana.
However, as usual,Akufo-Addo who in his imagination believes that he has worked harder than all Ghanaians combined, and that the presidency of Ghana is his peculiar property,hence his over zealousness and penchant to become president of the country at all cost before he dies, went way hire.
That is why Akufo-Addo ably supported by cooking-numbers-in-chief, Dr Mahamadu Bawumia, who also happened to be his defeated running mate and former NPP national chair, Jake Otanka Obetsebi Lamptey, petitioned the Supreme Court that they have found some irregularities, and called for the annulment of over 4.6 million votes in order to declare Akufo-Addo the winner.
That bizarre allegation, the court attendance and the review of the so-called evidence, which Bawumia could not even substantiate, took a lot of steam from Ghanaians and threw the country into a state of uncertainties.
That foolish petition indeed affected the country big time as investors parked at the corridors of Ghana not wanting to come in and throw in their hats to help boost the economy. It also destroyed a whole year of President Mahama's four-year term as he virtually spent a whole year in court to clean up the mess created by Akufo-Addo.
As we look back, we have a lot to learn. Ghanaians have a lot to cram and move forward as a nation. The foolish but needless adventurism of some individuals must never be tolerated again. Akufo-Addo knows within him that he never won the election, but cannot stand the shame that even though he took more than two years to campaign; President Mahama took less than three months to rub his nose in the mud by way of defeat.
If you were not born to win or to lead, no amount of witchery or prayers can ever goad you to the top. True leaders are born, not made! Today, Akufo-Addo still wants to be the NPP's flagbearer for 2016, but Ghanaians can tell that many in NPP wish that this old haggard politician would hang his political boots for someone else to take the mantle.
The dust is still spinning in the NPP camp and it will get muddier when Akufo-Addo finally gets his wish of leading the NPP for the third (3) time. The SC verdict indeed deflated Akufo-Addo, but he may be flattened finally come 2016. However, that will only happen when the economic strain facing Ghanaians begin to ease.Over to you, NDC!