Is The NPP Bubble Busting?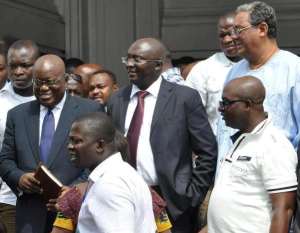 After 14 days of evidence presentation by the NPP and marathon cross-examination by the three respondents in the on-going Supreme Court challenge of the 2012 Presidential Election, you perhaps need not to be a lawyer to deduce where this case is traveling to. If you are glued to your television set or radio, you may be better placed in forming your own opinion of where the pieces may eventually settle.
When the NPP served notice that they have compelling evidence that they have been cheated in the 2012 Presidential Election, millions of Ghanaians especially their supporters believed them.
In fact, many people thought that at the appropriate time the NPP will present to the court vivid evidence like video recordings of collusion and duplicitous at some of the polling stations, voice recordings of people planning to cheat and cheating, pictures of people stuffing or changing ballot boxes and protest notes from their polling agents from various polling stations across the country.
That was some of the hard core evidence that most Ghanaians were waiting to see. If Dr Mahamadu Bawumia, the NPP star witness, has presented some of the listed evidence in court, he would have made things a lot easier for his party, his supporters, the court and Ghanaians as a whole.
But Dr Bawumia has repeatedly told the court that all the evidence he has to back his case is on the pink results sheets which are backed by his analysis. Under multiple occasions, Dr Bawumia has told the Supreme Court that he does not have a single shred of protest note from any of the NPP polling agents that were at the 26,002 polling stations on Election Day.
Dr Bawumia has also not given any indication that he has any video or voice recordings of voter fraud at some of the polling stations, voice recordings of people planning to cheat and cheating, pictures of people stuffing or changing ballot boxes and protest notes from their polling agents from various polling stations across the country to buttress his case.
And to make matters worse, Dr Bawumia who has been forced on several occasions to read the role of polling agents during the election in the witness box has strangely adopted his own interpretation of the electoral law and the role supposedly to be played by polling agents.
Another issue which is very difficult to comprehend bothers on unsigned pink sheets by presiding officers. In the 2012 guide for the conduct of the elections, many viewers and listeners did not miss hearing Dr Bawumia read vividly and in clear voice that if a presiding officer at a polling station does not sign his/her name on the pink sheet, it does not nullify the results.
But even after reading this to the hearing of Ghanaians, Dr Bawumia still maintains that the law enjoins presiding officers to sign their signatures on the pink sheets, and that if they failed to do that the results must be thrown away.
One of the prominent refrains that Dr Bawumia has adopted throughout the court proceedings is, 'You and I were not there, so we cannot tell what actually happened on voting day.' If you were not at a polling station on voting day, how then are you able to deduce that a figure that has been cancelled by a presiding officer still stands? Again, if you were not there, how are you able to conclude that when the figures of the number of voters are different from the words the figures supersedes the words?
There is this issue which also bothers on equity. We may have heard the word equity on countless of times. It simply means fairness, justice or impartiality. In the courts of law equity plays a major role in helping judges to determine the outcome of cases. Therefore, the maxim of equity enjoins people who go to court to appear with clean hands. But we seem to have a big problem on hand if we apply the maxim of equity to the case that the NPP has brought to court.
We are reliably informed that about 99 per cent of the pink results sheets that the NPP is contesting in court are from areas that President Mahama won. But we have the NPP claiming that they poured through 24,000 pink results sheets and selected the ones with problems in order to assist in cleaning up the electoral problems and enhancing democracy in Ghana.
Yet, when the maxim of equity is applied here, Dr Bawumia and his NPP would be found wanting. Again, you don't need to be a lawyer to conclude that Dr Bawumia is in court, but not with clean hands. He wants the court to examine the pink sheets from areas won by President Mahama and throw the votes away, but he has shielded the pink sheets from areas won by Nana Akufo-Addo from review. This is where the problem is.
Another issue worth mentioning has got to do with the way Dr Bawumia gathered and presented his evidence to the court. Dr Bawumia has told the court that he personally reviewed all the over 11,000 affidavits filed in court. This is an incredible feat by a single person. But under cross-examination, Dr Bawumia's attention was drawn to the fact that close to 70 per cent of the affidavits that he claimed he personally reviewed were either not signed or did not have the stamp of the commissioner of oaths.
There are multiple instances whereby Dr Bawumia has accused that there were over voting or unsigned signatures. Here, he is calling on the Supreme Court to throw away the votes in those areas. But under intense cross-examination by Mr Tsatsu Tsikata, Dr Bawumia recanted those allegations. However, when his attention was drawn to the fact that his allegations on those instances were false, Bawumia retorts that, 'But my mistakes did not cost somebody his presidency.' This is where we have another grey area.
Dr Bawumia has made series and series of mistakes in his evidence gathering and wants those mistakes to be taken into account in throwing away the votes of over 4 million voters. He does not see anything wrong with that. He does not even comprehend that if those mistakes are taken into account and those votes are thrown away it could also cost somebody his presidency. But all that Dr Bawumia cares is his quest to become vice president.
The NPP bubble is indeed busting and we are seeing with our very eyes that the legs which the case was standing on are shaking uncontrollably. No one can predict when the legs which give in, but from the look of things we seem to be getting closer to where the curtains would be drawn.
This case has many implications and the loser will certainly take a bad hit. If Dr Bawumia loses the case it will largely dwell on most of the issues that I have raised. And his name in the history books of the country will be badly tainted. And I will not be surprised if I see people addressing him like, 'There goes the man who held the whole country on ransom under false pretences.'